Note to self: Make cookies after dinner.
Making cookies before dinner will result in the consumption of copious amounts of cookie dough, as well as several fresh-out-of-the-oven "taste tests."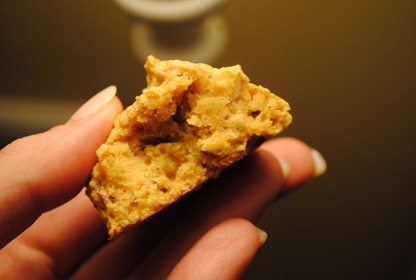 Dinner will then be ruined.
A sugar coma caused by cookies will set in, zapping any hopes you had of preparing a healthy dinner.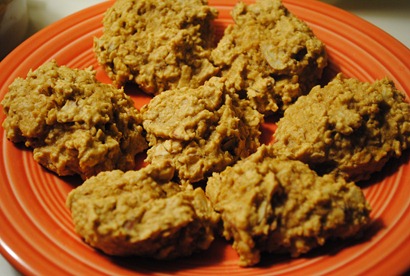 Throw in the towel, grab another cookie and call it a night.
Sometimes cookies for dinner just happens.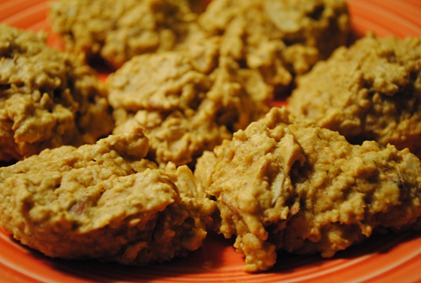 It's best to embrace it with a smile.
Tonight's dinner-ruining recipe was oatmeal pumpkin spice cookies. I came up with the idea for these cookies after a craving for oatmeal cookies hit and I remembered that I had pumpkin in the fridge from this morning's breakfast.
I used the recipe on the back of Publix's old fashioned oatmeal container as a guide, but significantly changed it to make these cookies. The result was moist and delicious pumpkin-laced oatmeal cookies.
Oatmeal Pumpkin Spice Cookies
Ingredients
1 c. packed brown sugar
1/2 c. sugar
1 egg
1/4 c. water
1 c. canned pumpkin
1 stick butter, softened
1 tsp. vanilla extract
3 c. old fashioned oats
1 c. all purpose flour
1/2 tsp. baking soda
1 tsp. pumpkin pie spice
2/3 c. slivered almonds (walnuts or pecans would also be delicious)
Directions
Preheat oven to 350 degrees
Mix sugars, egg, water, pumpkin, butter and vanilla
Combine oats, flour, baking soda and pumpkin pie spice and slowly mix into the sugar mixture until evenly combined
Bake for 13 – 15 minutes
Enjoy!