Happy Thanksgiving!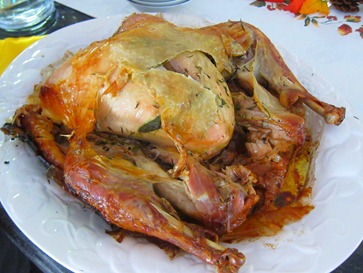 How's that for a good lookin' turkey?
Ryan's mom, Diane, clearly outdid herself. She prepped for days in advance and all her work paid off. We had the most wonderful Thanksgiving feast!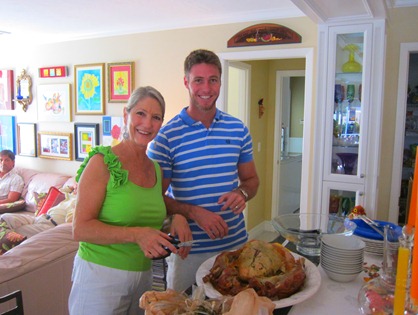 I loved being part of such a fun, bustling day full of good food, family, laughter and lots of eating! 
I think Sadie enjoyed the day as well…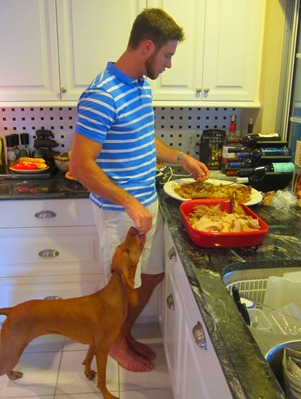 I'm going to go out on a limb here and say Thanksgiving is her favorite holiday. Lots of tasty scraps were thrown her way by multiple family members. Once one person was all tapped out of scraps, she hit up the next innocent eater… Well, those that beckoned to her by wiggling turkey meat under the table, anyway.

Ryan and I spent the night at Diane's and woke up early to tackle our own walking version of a Turkey Trot. We took Sadie on a 3.5 mile walk over a long bridge in downtown Sarasota.
When we came home, we got ready and helped set things up for the big feast. My family drove in town to join the fun.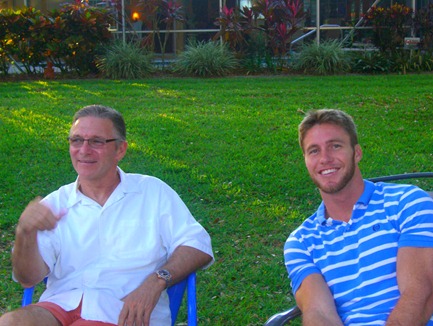 They came bearing appetizers, with one resembling a turkey!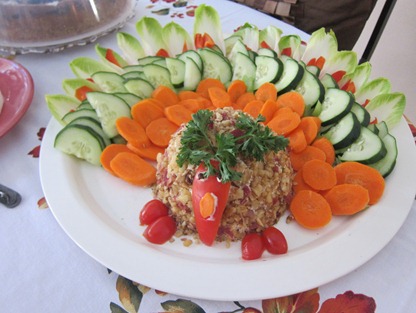 After chatting and nibbling on veggies, bruschetta and shrimp cocktail, we filled our plates with turkey, mashed potatoes, candied sweet potatoes, cinnamon carrots with bacon, chestnut stuffing, corn casserole, cranberry sauce and pear and raspberry salad.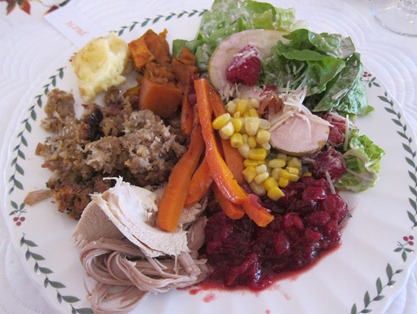 I am not the kind of girl who eats things one at a time. I dabble in everything all at once and revel in the different bursts of flavor. I cleaned my plate and went back for seconds of the sweet potatoes, carrots and stuffing.
With full bellies, we took a break from eating for a bit to hang around outside and feed the cows that backup onto Diane's yard.
They love fresh oranges!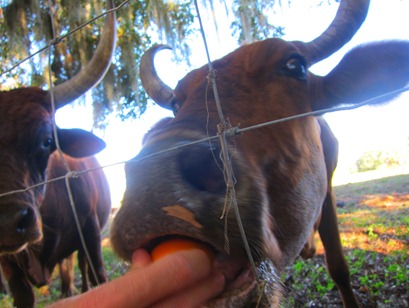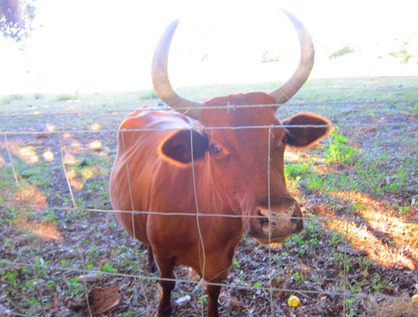 Watching the cows inhale sweet, juicy oranges clearly sparked our dessert cravings, because before long we found ourselves back inside for pie, pumpkin mousse, plum torte and a pumpkin roll!
Yes, the aforementioned pumpkin mousse would be Ryan's ice bath mousse. We made it and loved it.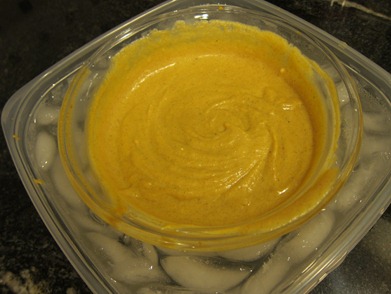 Though the mousse did require some crazy steps like placing it in an ice bath, the extra effort was worth it, and it was delicious when served atop a homemade pumpkin roll.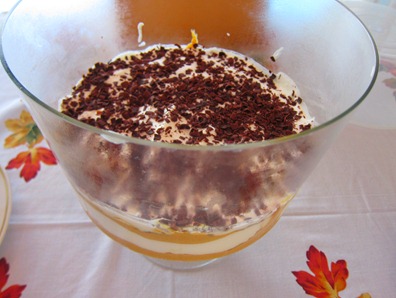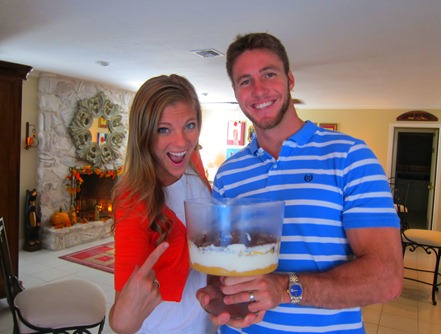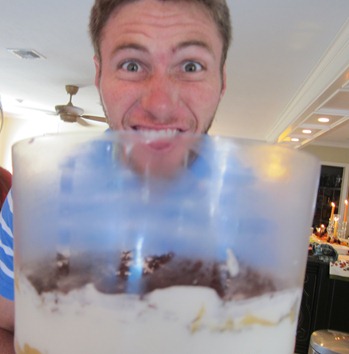 The Thanksgiving celebration concluded in the backyard, after several games of bocce ball, lots of stories and a lot of laughter.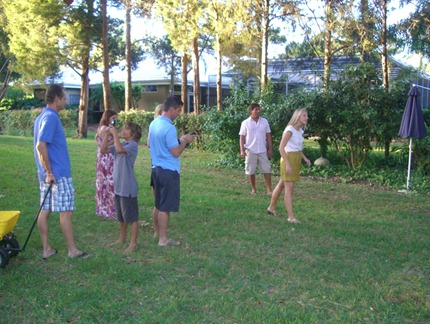 It was sad to say goodbye to my family, but we're heading their way tomorrow!
Once everyone was gone, Ryan, Diane, her boyfriend and I piled into Diane's car to head to the movies to see the latest Harry Potter movie.
I've read all the books and seen all the movies and I was quite a big fan of this one! To be totally honest, I thought it was going to drag a lot, based on the beginning of the seventh book (they were in the forest for-ev-er), but the movie flew by. I can't wait to see part two!
Now we're back and Diane and I are the only ones still standing. Everyone is dropping like flies after such a fun-filled day. I think I may be next…
Goodnight and Happy Thanksgiving!