I brush and I floss and I brush and I floss and what does that get me?
A cavity!

Okay, so I maaay have exaggerated a bit on the whole flossing part.

To be honest, I always go into the dentist assuming I have a cavity. Though I try to be an optimistic person, when it comes to the dentist, I'm a realist.
My whole family is a "plaque-y" family and we're prone to cavities, so when I leave the dentist without a cavity, I consider it a huge victory! Today, however, I left with an appointment on my calendar for a filling. Thank goodness I love my dentist and know he won't hurt me when he fixes my cavity, otherwise I'd be worrying about the upcoming appointment until the cavity finally got fixed.
Plus, having another dentist appointment just means I'll get to take in some more celebrity gossip in the waiting room!
Side note: I am quite excited about the royal wedding and I'm not even in the United Kingdom. I can't even imagine the excitement over there. I heard that the entire UK has the day off of work in honor of the nuptials. Can I get in on that?
Lunch
After my dentist appointment, I came back to my parents' house and prepared lunch for me and Ryan.
I created a bit of an odd lunch centered around the one thing that was calling to me: Pita chips!
I topped some Stacy's simply naked pita chips with sliced turkey deli meat and shredded Mexican cheese before microwaving the plate for about 50 seconds until the cheese melted.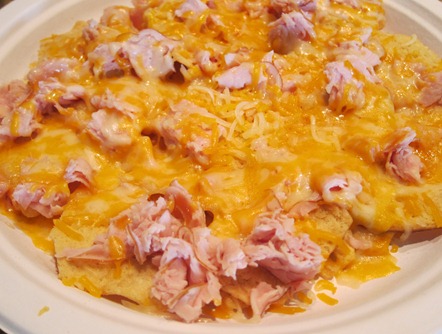 I like to think of this lunch as a slightly healthier version of nachos.

Ryan and I split the "nachos" and I also enjoyed a sliced apple and a cup of raspberry Greek yogurt on the side.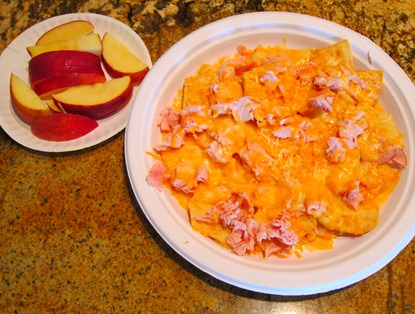 After lunch, Ryan and I collected our things and hit the road for Orlando. Our entire drive took place in the rain which made the commute a little longer than we anticipated.
Eventually we made it back to our apartment and quickly changed to head to the gym.
Workout
I still wanted to take it a bit easy since today is the first day I've really felt like myself since Thursday and kept my workout relatively light. I completed 20 minutes on the elliptical before tackling some weights to complete a total-body weights routine that looked like this:
Once our workouts were complete, we headed back home, quickly showered and I grabbed a light snack to fuel me through this blog post!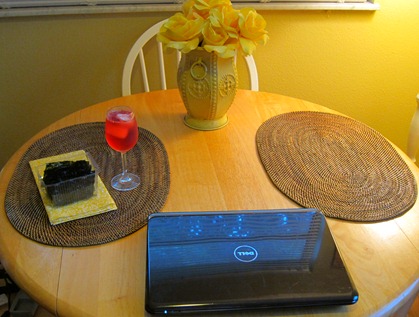 My new favorite seaweed snacks plus a wine glass full of cranberry juice (x2!).
Sadie wanted in on the seaweedy goodness.
Oh I missed that face over the weekend!!!
With such dreary weather outside, I plan to spend the rest of the day cleaning and organizing our apartment so I can drive back to work tomorrow without feeling like I'm leaving behind a pig sty of a home!