Remember how I was procrastinating packing for Europe until late last night?
Well, guess who's all packed while her family is scrambling around this evening?
Ooooh yeah.
I think I'll just sit back and eat boatloads of caramel popcorn and watch the hysteria that always falls upon this household the day before a major vacation.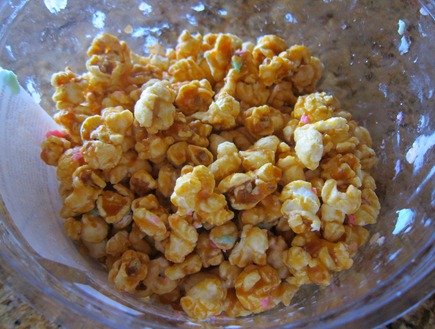 Speaking of the caramel corn, that is basically what I had for dinner tonight.
Of course I didn't plan to eat caramel corn for dinner, but my family didn't end up sitting down to eat until after 8 p.m. and I'm used to eating closer to 6 p.m.
My stomach wanted food and since the caramel corn was sitting prevalently on my parents' kitchen counter, that's exactly what I ate. I'm so bad about waiting to eat dinner until later in the evening. I like eating early and can't seem be able to tide myself over with just a snack. I keep eating and eating. I just want my evening meal!
The caramel corn called to me when I saw that it was from Skokie, Illinois!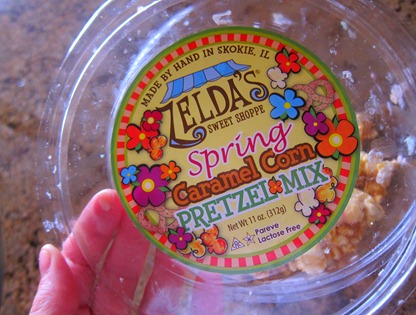 Being a former Illinois-girl myself, when I recognized the town of Skokie on the label of Zelda's Sweet Shoppe spring caramel corn and pretzel mix, I dove right in. It didn't disappoint and the white chocolate drizzle over the caramel corn and pretzels melted in my mouth.
Between the copious amounts of caramel corn, watermelon and pita chips I snacked on before dinner, I wasn't even hungry by the time my mom served up some stir-fry.
Still, it was pretty darn good and I refilled my plate three times. I figured my body would appreciate some nutritious veggies and protein-packed chicken a little more than my sugar-laden snack choices.
I'm now blogging in bed and am on a mission to get to sleep a bit early tonight. Our flight leaves in the early afternoon so I'm planning on waking up early for a quick workout and shower before we take off.
See ya in the morning!
A quick little side note: Can someone please tell me what the "insert" key is used for on the keyboard of a computer? I am honestly at a loss to figure out its function other than to annoy people who accidentally hit it as they try to edit or type.