Earlier this week at the grocery store, I couldn't find any organic chicken breasts that looked decent, but I
did
find a small package of organic chicken thighs that were around $3.50 and lookin' good.
I've never prepared chicken thighs before but figured their small size would make them cook up nice and fast.
After finding a recipe for spiced honey brushed chicken thighs on CookingLight.com, I decided to follow the first half of the recipe and made a rub very similar to the one I previously used on the sugar 'n' spice pork that Ryan and I loved.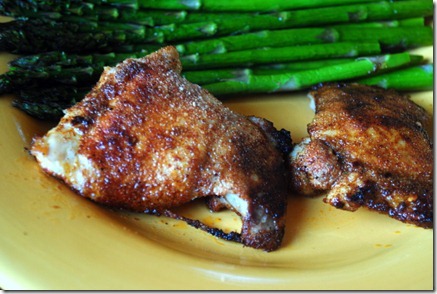 The rub included:
1 teaspoon chili powder
1 teaspoon garlic powder
1/2 teaspoon salt
1/2 teaspoon ground cumin
1/4 teaspoon ground red pepper
1/2 teaspoon paprika
I covered four chicken thighs in the rub and broiled them for approximately six minutes on each side.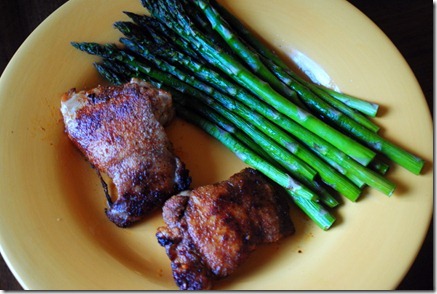 Sides included roasted asparagus and half of a toasted whole wheat bagel topped with a bit of Smart Balance.
And then it was time for dessert!
I made his and hers milkshakes for me and Ryan using a pint of Blue Bell cookies 'n cream ice cream.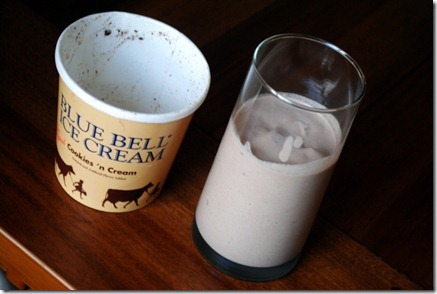 Since we were both feeling a little meh today, sipping milkshakes on the couch after dinner sounded perfect!
Ryan and I have big plans to get into bed early tonight to get some extra rest. I also hope to sneak in some reading! I started Andre Agassi's autobiography, Open, earlier this week and am enjoying it so far!
See ya tomorrow!