I'm pretty sure I was fast asleep by 9:30 p.m. last night. When Ryan tapped me at 4:50 a.m. this morning asking me if I wanted to skip the gym in favor of sleeping in, I was stoked.
Yes!
We woke up at 7 a.m. That's 9 and a half hours of sleep. And I feel so much better this morning! We both do. Sometimes a little rest is what the body needs to bounce back to normal.
A little rest and a good breakfast!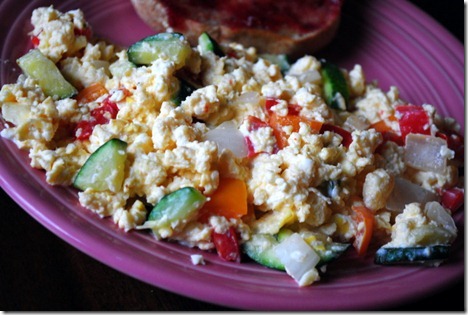 No signs of a sore throat this morning!
I made scrambled eggs by first sautéing chopped onion, red and orange pepper and zucchini in a bit of olive oil before adding a mixture of three eggs, a splash of milk and cream cheese.
The cream cheese was a last-minute addition since we're all out of shredded cheese and scrambled eggs without a hint of cheesy flavor just don't do it for me.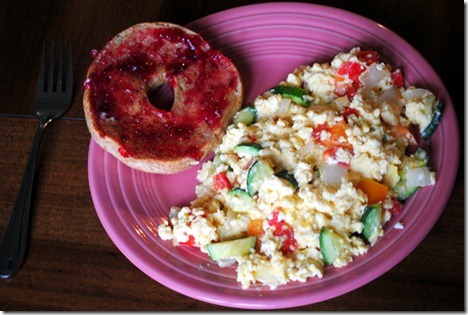 The cream cheese melted perfectly and added a nice punch of flavor to the fluffy eggs.
I also had a lightly buttered half of a toasted bagel with raspberry jelly.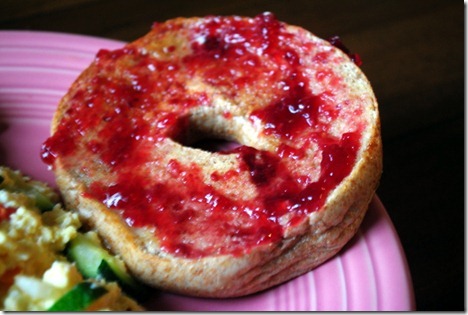 And a cup of coffee to get my mental mojo goin'.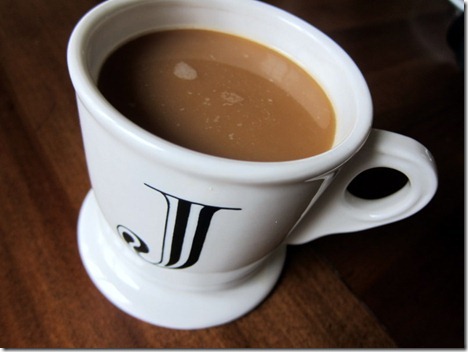 Now I feel ready to tackle the day!
First Car
Yesterday Monica tweeted a link to an animated video of her "first car story" that I thought was so adorable. All of the things she talked about in her first car story reminded me of my first car and made me smile.
I think most people look back on their first car with a sense of nostalgia, even if it was a piece of crap. It was your first car, after all!
My first car was a teal 1994 Toyota Corolla and it was the jam.
It lasted me years and years, surviving a few accidents and fender benders.
Some fun facts:
It would shake if it ever got above 70 miles per hour
It was easy to pop the locks and was broken into in college… and my laptop was stolen during finals week
The dashboard would shake and make a clicking sound sometimes, but a swift smack would make it stop every time
The hubcaps randomly flew off on more than one occasion
One time when I was driving it in a residential neighborhood, my high school boyfriend secretly slipped it into neutral and I couldn't figure out why I couldn't get it to go and started freaking out
In college my friend Minda named it the "Teal Tortoise"
My dad wouldn't let me put any stickers or decals on it to "keep it looking nice"
I loved that car!
Questions of the Morning
What was your first car?
What is one "fun fact" that you find amusing about your first car?