Last night was fun… and interesting.
I had plans to meet up with my best friend and former college roommate (and bridesmaid!), Laurel, between our two homes in Tavares, Florida for dinner.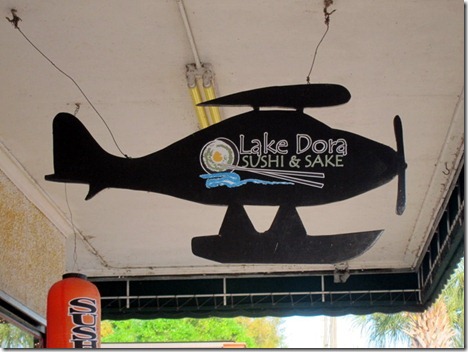 We met up around 7 p.m. and had a great time catching up and chatting away as always. There's just something so fabulous about friends you've had for years!
Though we finished eating within an hour, we ended up hanging out and talking until around 10 p.m. when we said our goodbyes and I hopped in my car for the hour-long drive home.
The towns between Tavares and Ocala are quite small (Tavares and Ocala are quite small themselves) and the drive had me on a lot of very dark, rural roads which was kind of creepy. My mind started to think about what I would do if I got a flat tire and had to pull over which naturally freaked me out.
When I was about 20 minutes from home, a car drove up really fast behind me. I naturally changed lanes to let the car pass, but it changed lanes, too, staying right behind me. I switched lanes again and it switched lanes along with me.
And then it put on its lights.
It was a cop!
Duh.
A cop who looked exactly like James Marsden.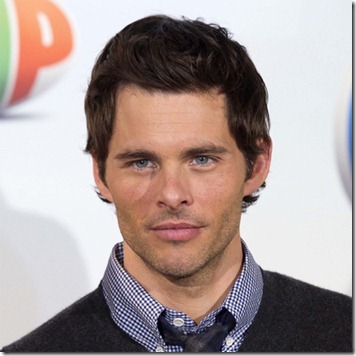 For real.
I pulled over and the officer asked for my driver's license as I blurted out that he totally freaked me out! I told him that he had me convinced he was a drunk driver harassing me on the road!
Apparently I was going 15 miles an hour over the speed limit, but the friendly officer let me go with a warning, at which point I said, "You're really not giving me a ticket?" (Gosh, shut up, Julie.)
"No. Just remember to keep an eye on your speed."
"Okay. Thank you so much," I said.
And then, in true over-sharing fashion, I asked him whether or not anyone has ever told him that he looks exactly like the guy from the movie 27 Dresses, which surely he has seen, right?
Someone put a muzzle on me, please.
For the record, the officer said he gets the James Marsden thing all the time. Just probably not from people he pulls over after 11 p.m. on a random Wednesday night.
So, we learned two things from my experience last night:
Drive slow and obey the speed limit
If you're single and looking for a James Marsden look-alike boyfriend, speed through Ocala at 11 p.m. on a Wednesday night
Breakfast
Breakfast this morning is quickly becoming a new favorite.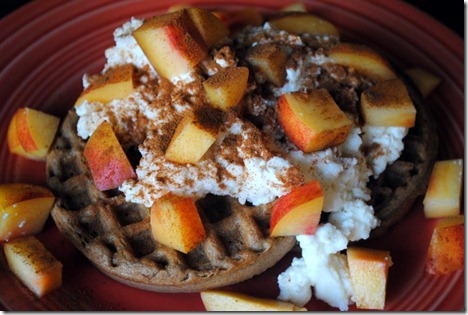 I enjoyed a plate of two toasted whole wheat waffles topped with a mixture of ricotta cheese and cottage cheese, a chopped nectarine and cinnamon.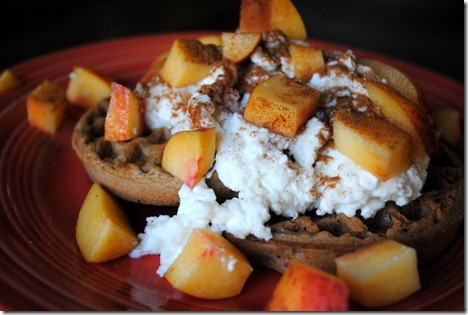 I've never been a huge syrup lover, so I am a big fan of topping my waffles with something a little different – something packed with protein!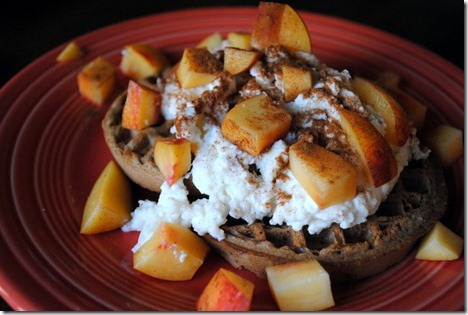 I've also noticed that eating waffles topped with ricotta cheese, Greek yogurt or cottage cheese really helps me feel satisfied for much longer than eating waffles simply topped with syrup. The extra protein punch really helps with satiety.
Time to finish up one freelance project and brainstorm article ideas for my next contribution to What's Up Ocala magazine. I have a few pitches in my mind and need to type them up and send them out for approval.
Wishing you a day free of run-ins with the law!

Question of the Morning
Do you have any interesting stories that involve being pulled over by a police officer?
Perhaps my most interesting incident happened in college when I got pulled over for rolling a stop sign on the UCF campus. The officer pulled me over in the parking lot of my sorority house, at which point another cop joined him with his lights flashing and parked me in, drawing an excessive amount of attention to the incident.
When I went to get the officer my driver's license, I realized I didn't have it on me (I left it in a different purse) and instead gave him my student ID. The officer then lectured me about the importance of having my driver's license in the car with me at all times as my sorority sisters all gathered at the window to catch a glimpse of the convict in the driveway.