After eating pancakes this morning, Ryan and I took Sadie on a three-mile hike on the nearby trails before heading to church.
Please take a second to zero in on Sadie in the above picture. She's such a ham.
Our hike was decent except for a half-mile stretch where horse flies would not stop flying around our legs. They didn't bite Ryan, but I got bit several times which was not fun. We're hoping the horse flies go away and aren't going to stay around now that's it so warm outside. They would put a serious damper on relaxing hikes!
Well, not for everyone…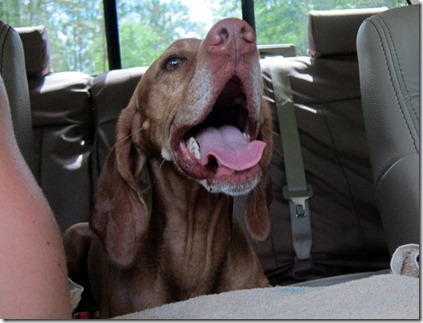 Post hike, I quickly blogged before we headed to church and ran some errands. One stop took us to the library to pick up some new reading material.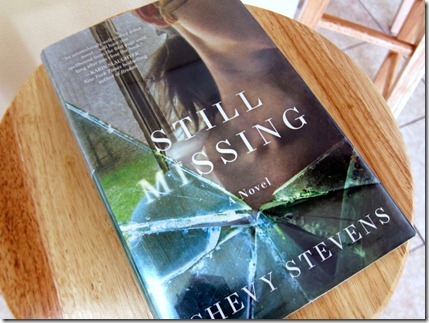 Though I said I wouldn't announce PBF's May Book Club selection until Monday, judging by the votes so far, Still Missing is looking like the definite winner, so I picked it up this afternoon.
Eventually we made it home around 1:30 p.m. and we were ready for lunch!
I made myself a plate of chicken salad and apple slices.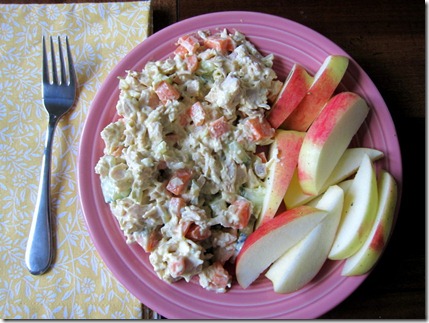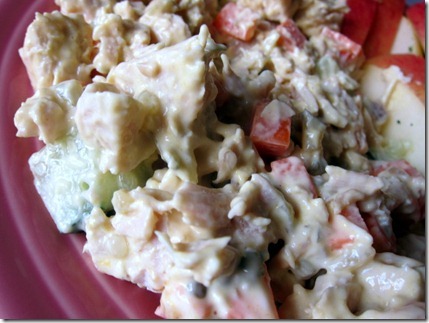 I added cucumber and carrots to my typical chicken salad (chicken + light mayo + mustard + sweet relish) and loved the added crunch.
After lunch it was time to do some baking using one of the finest ingredients in the universe.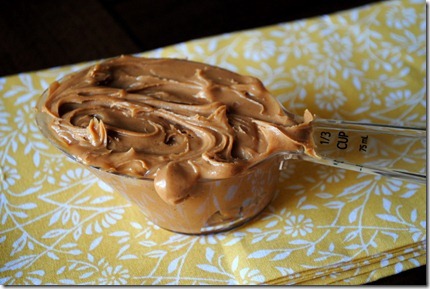 Clearly Sadie very much agrees with that statement.
Check out her neck flexibility! She wasn't about to let one little smidgen of peanut butter remain in that cup.
Her resourcefulness is not lost on me.
I baked up a batch of fantastic oatmeal peanut butter and banana cookies and will be sure to share the recipe with you guys this week. It's a winner and Ryan and I already dominated a few too many. I'm hoping our appetites return when dinnertime arrives because we have a crock pot meal waiting for us!
On that note, I'm off to do some laundry. You know it'll be a blast!