Yeehaw!
Yesterday's horseback riding adventure was a lot of fun!
During our time on horseback I realized that horses make me a little nervous. I have a very healthy respect for them, that's for sure.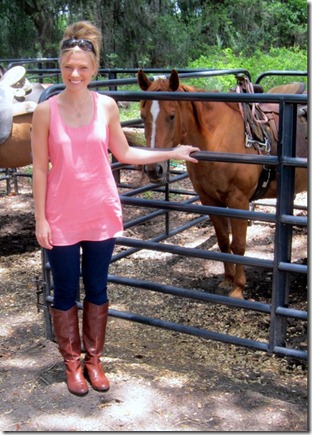 The last time I went horseback riding  was many years ago with my family and friends. I was assigned a horse that "didn't get along" with my friend Paige's horse on the ride, and I was instructed to keep my horse away from her horse.
It ended up being the goal of our two horses to mess with each other and nip at each other. It was incredibly nerve-wracking and at the end of the ride, my horse even went up on its hind legs at one point which totally freaked me out. Since then, I've realized just how vulnerable I am when I'm riding a horse. They are big, powerful animals!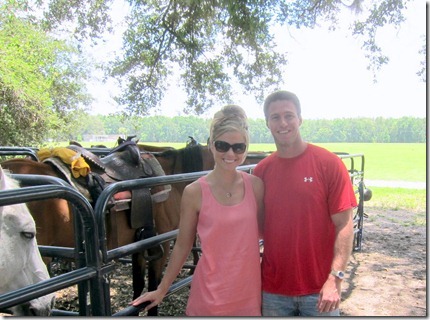 We arrived at Cactus Jack's Trail Rides around 1:30 p.m. for a 90-minute ride with a small group of four people.
After filling out some paperwork, Ryan and I were assigned to our horses.
Meet my horse, Ducky!
Ducky is an ex-polo horse that was injured and nursed back to health and is now one heck of a well-behaved trail horse. He was responsive to my commands and after 20 minutes on his back, I began to trust him and relax a bit.
Ryan's was assigned to Dollar, a horse that loved to eat!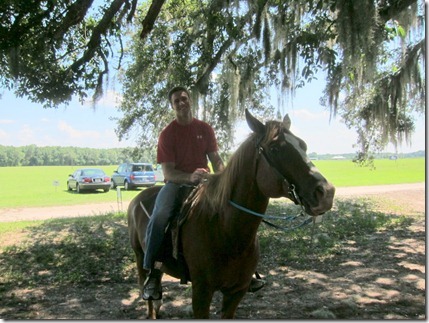 Our trail ride went through the forest and some open fields.
We passed tons and tons of blackberry bushes. I wished they were taller so I could pluck some berries off to eat on the ride.
For most of the ride, our horses simply walked along but we did get a chance to trot a few times. I was happy I took your advice and wore jeans because the 92-degree weather wasn't too awful in the woods since there was a pretty steady breeze. I didn't slide around on the saddle at all.
Speaking of jeans, I wore my thinnest pair and used these awesome velcro strap things (Hollywood Boot Straps) that I got in my Christmas stocking to keep my jeans tucked into my boots.
They worked perfectly and kept the denim off my ankles so my feet could breathe a bit. I always struggle with jamming my jeans into my boots, so these straps were great!
When we got off our horses, we walked funny for a little while and had a good time laughing at each other as we adjusted back to life off of a horse.
Hope your weekend is going well!