Ryan and I debated heading to the springs or taking Sadie to the dog beach today, but since both were a bit of a drive and Weather.com revealed some risky weather in the future, we stayed close to home.
We attended an early-afternoon church service before going out to lunch at Grace Japanese Steakhouse. We heard great things about the restaurant from friends in the area and were anxious to give it a try.
After the hostess seated us, we went unnoticed for quite a while and I think someone forgot to assign a waiter to our table.
We started brainstorming ideas on how to get their attention in creative ways.
First we tried this…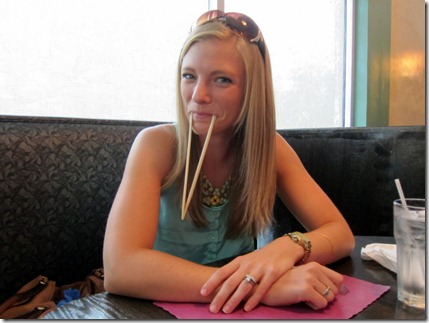 And then we tried this…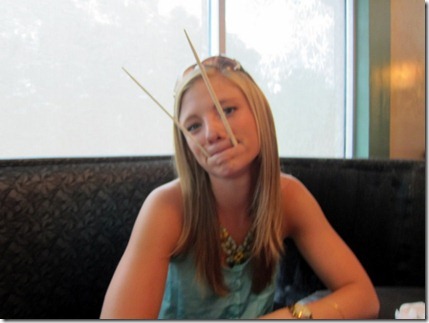 Nothin'.
Okay, so we didn't actually sit there with chopsticks in our mouths, but we did talk about how funny it would be if a waiter walked by and every time they glanced at our table, our chopsticks were in another place.
It was oddly amusing.

Once we did get noticed, I ordered a miso soup to start and an appetizer roll that included cucumber, masago (fish eggs) and imitation crab.
For my entrée, I opted for the fantasy roll which was packed full of fish and flavor.
Ryan got a bento box with teriyaki chicken and enjoyed his meal as well.
Since we were within walking distance of Peachwave, a fantastic frozen yogurt shop, we stopped by after lunch for a little sweet treat.
Cotton candy + Cupcake frozen yogurt topped with whipped cream… I know cotton candy sounds like a strange flavor, but it tasted like childhood in a cup. So good!
We spent the rest of the afternoon shopping for groceries, doing laundry and other odds and ends around the house. Hoping to cram in a little nighttime reading after dinner.
See ya in the morning!