Happy Monday!
Need some help getting a little pep in your step this morning? How about an extra-crazy picture of Sadie?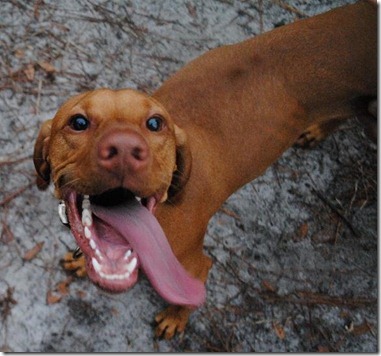 She told me you can borrow some of her never-ending energy today if you need it.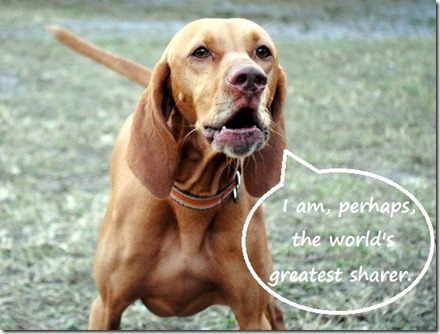 Workout
Ryan forgot to set the alarm last night (he's alarm boy in our house), but thankfully he somehow naturally woke up at 5:01 a.m., so we made it to the gym at our usual time without a hitch.
This week is the final week of Phase One of the LiveFit workout program that I began loosely following at the end of May. (I'm not following the meal plan and changed some of the workouts a little bit.)
I completed the same leg workout that I did last week and really like it a lot. It's probably my all-time favorite leg workout because it's fast-moving, challenging and targets all different parts of the leg.
Even though I really like the leg workout, I am more than ready to move on to Phase Two of LiveFit. I'm getting a little bored and am definitely missing my circuit workouts. Phase Two incorporates supersets which will hopefully hold my interest a little more!
Since a few of you requested progress updates, as far as body changes are concerned, I haven't really noticed anything dramatic, though I feel like my shoulders may look slightly more muscular. I stepped on the scale this morning and noticed that I gained a couple of pounds since I started LiveFit, but I'm not following the meal plan, so I really can't speak for the program as a whole. I have definitely been eating my fair share of sweet treats lately, but I've also read that a lot of people put on a few pounds in the first phase of LiveFit, since gaining muscle is the primary goal of the first phase.
Breakfast
Breakfast this morning was a cold bowl of overnight oats topped with a sliced banana and berries.
Overnight oats may be one of my favorite summertime breakfast options. It's satisfying, cold, thick and creamy.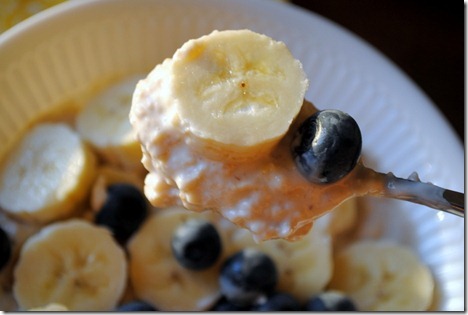 Time to play catch-up after a relaxing weekend!