Last night's dinner was a one-pot meal: Red beans and rice!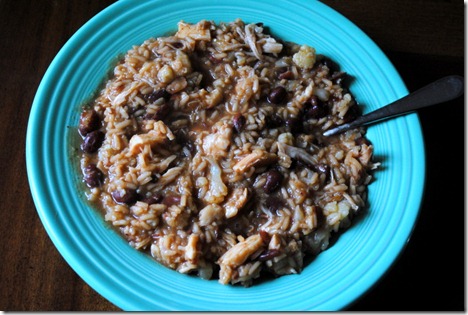 We had a ton leftover, so red beans and rice became today's lunch as well.
I added chopped chicken breasts and a bunch of cauliflower to the dish yesterday, so it had a little more protein and some added nutrition.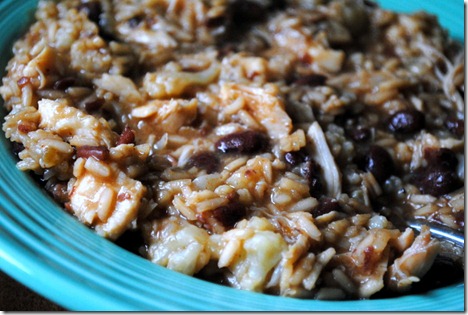 My eyes ended up being a bit bigger than my stomach this afternoon, so I wasn't able to finish the entire bowl that I dished for myself that you see above.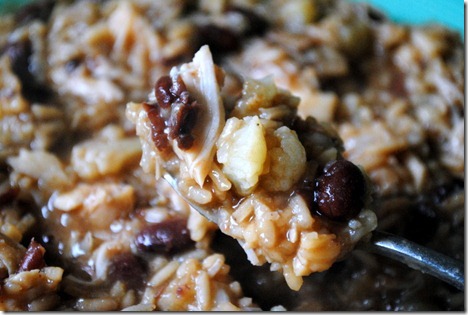 Sadie happily swooped in to take care of the few remaining bites. Dog to the rescue!
Personal Chef at the White House
After breakfast and before blogging this morning, I took Sadie on her morning walk around our neighborhood. Monday morning walks are my favorite because it means that I get to listen to the latest episode of my favorite podcast, Wait, Wait… Don't Tell Me, that debuted over the weekend.
White House chef Sam Kass was a guest on this week's show and offered a little insight into what it is like to cook for the Obama family.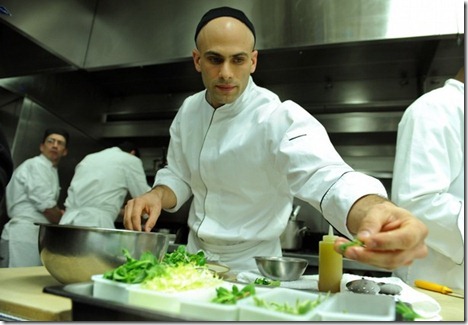 (Photo credit: Kevin Dietsch-Pool/Getty Images)
Sam said that he uses fresh produce from the White House garden nearly every day and that the family definitely "walks the walk" that First Lady Michelle Obama preaches in her "Let's Move" campaign when it comes to eating healthy food.
The interview with Sam immediately made me think about how nice it would be to have a private chef to cook healthy meals that taste delicious for me every day. Wouldn't it be awesome to have someone do all the meal planning, vegetable chopping and fancy cooking for you? And then have all that food actually taste amazing and be healthy? Sign me up!
I did some digging to see if I could find out what Sam Kass makes for the Obamas to eat and wasn't able to find much. According to The Huffington Post he's typically discreet when it comes to talking about what he makes for the president, but the article stated that the following meals and snack ideas were "talked up by Kass" throughout the past few months:
Seared tilapia with fried rice and broccoli and carrots
Garden herb-roasted chicken with braised greens
Broccoli soup, sweet potatoes and greens
Cauliflower gratin
Warm grapefruit with honey
Banana boats stuffed with raisins, nuts and crushed whole grain cereal
While I love baking and think cooking is fun for the most part, I'd definitely be on board for having a personal chef if I lived in the White House. I'd want to hang out in the kitchen and pick up some tips and tricks from the best of the best. I also think it would be cool if the White House chef had a website or blog that detailed the Obama's weekly menu so we could all see what they're eating and make the healthy meals that the first family enjoys. C'mon, Chef Kass! Do it!
The whole concept of having a personal chef made me think about which I would prefer to have in my life: A personal chef or a personal trainer?
I'd definitely go with the chef since eating craptastic junk food happens more often than a missed day at the gym for me.
Question of the Afternoon
If you could have access to a personal trainer or a personal chef every day, which one would you choose?