Yesterday it rained all afternoon which sent Sadie into a realm of irritation I've never quite seen before.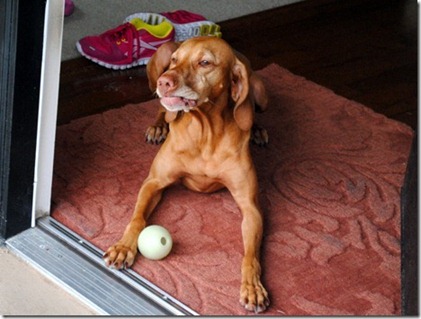 She usually deals with thunder fairly well, but yesterday she got awfully huffy and spastic whenever the thunder started roaring.
I tried opening the front door to show her that it was pouring outside and that the thunder was simply part of the weather, but she's a dog and doesn't understand the concept of weather, so that was a big fail.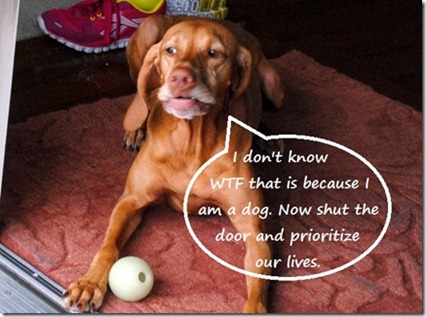 Her face in the above picture cracked me up. We'll call it "Skeptical Sadie," one of her many looks.
The weather is a lot more pleasant today, which, oddly enough also irritates Sadie because she wants to play and I'm as lame as ever, all cooped up in my office.
Playtime will occur shortly though because Ryan and I have plans to head to Tampa late this afternoon to catch the Tampa Bay Rays game this evening!
We got tickets to the game from one of Ryan's coworkers and I'm already dreaming about a ballpark hot dog and some peanuts. Mmm!
Lunch
Lunch today was my way of using up some veggies that were on the verge of death.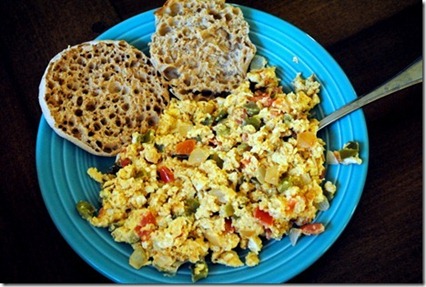 I made a plate of scrambled eggs with shredded cheese, tomatoes, green peppers and onion, served with a toasted whole wheat English muffin.
Breakfast for lunch!
And now for some fun…
FreshyFig Giveaway
Deciding what to get my bridesmaids as a special "thank you" gift on our wedding day was tough! I wanted to do something special and also make their gifts something they'd use and enjoy in the future.
One of the gifts I selected that I was most excited to give them was an adorable wishbone necklace I found on Etsy.com from the seller FreshyFig.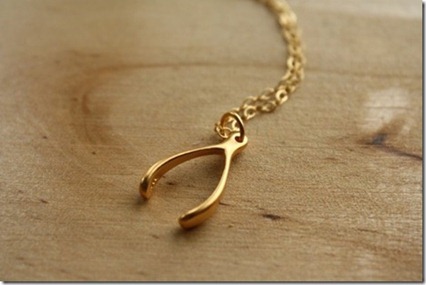 FreshyFig (aka Amanda) makes new and re-purposed vintage necklaces and tries to recycle quality jewelry findings and vintage pieces.
Apparently a few of you reached out to Amanda after I posted about my bridesmaid gifts and Amanda then reached out to me about hosting a giveaway on the blog. Since I know many of you love cute jewelry as much as I do, I was immediately on board.
Amanda had me select three necklaces to feature, and the winner of the giveaway will get to choose which necklace they'd most like from the three necklaces featured below.
To enter this giveaway, simply tell me which of the following necklaces you'd pick if you won! I'll randomly select a winner on Monday.
Your options include…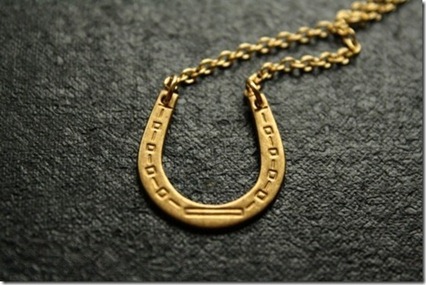 GOOD LUCK!