Come in close for the good stuff.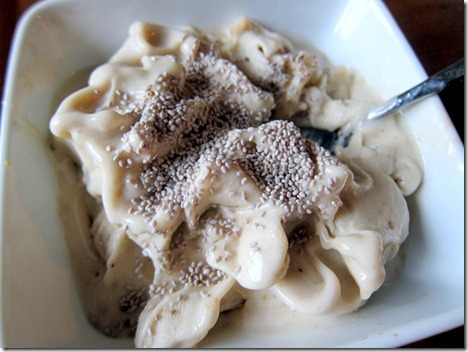 That, my friends, is a glorious bowl of high protein banana soft serve.
We'll get to that in a minute.

Workout
This morning my workout began with 20 minutes of cardio split between the stair master and the elliptical.
Then it was time for weights! I completed an upper body workout similar to the one I did last Tuesday.
I altered it a bit by taking out the one of the shoulder exercises and all of the ab exercises and adding chest and back exercises. They bore the heck out of me (especially back exercises) and I usually default to working them out in group exercise classes since the strength and TRX classes at my gym are really great about targeting the chest and back, but I incorporated low rows, push ups, chest presses and lat pulldowns into today's workout. Small victory.
Breakfast
I'm sure many of you have discovered the wonders of banana soft serve thanks to Gena's blog. It's simple and the perfect way to satisfy your sweet tooth in a healthy way. (All you do is place frozen bananas in a food processor and blend them until they turn into creamy soft serve.)
This morning I wanted something cold and creamy for breakfast but wasn't feeling a smoothie. I remembered banana soft serve and figured I could morph it into a more satisfying breakfast by adding more protein.
I then remembered the banana custard I made a while ago and tweaked it a tiny bit to get today's breakfast.
High Protein Banana Soft Serve
Ingredients
2 frozen bananas, broken into chunks
1 cup Greek yogurt (I used vanilla, though any flavor will work)
1/2 scoop vanilla protein powder, optional
1/4 teaspoon cinnamon, optional (recommended with plain, honey or vanilla flavored Greek yogurt)
Splash of almond milk or milk of choice
Chia seeds, nuts, nut butter or fresh berries for garnish
Directions
Place bananas, Greek yogurt, protein powder and cinnamon into food processor and allow to process for a couple of minutes until a smooth, creamy custard begins to form
Scrape sides of food processor, add a small amount of almond milk to get everything moving and pulse several more times
Scoop soft serve into a bowl and top with desired toppings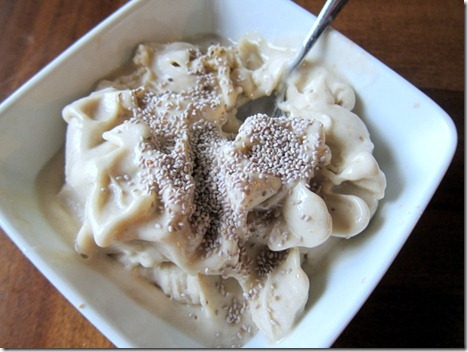 This breakfast is crazy good and absolutely perfect for a hot, summer morning. I think it would also make a great nighttime snack if you're in the mood for something sweet, but want a sweet treat with a little punch of protein.
You can also completely customize this recipe and add other frozen fruits, spices or flavors to the mix like frozen strawberries, cocoa powder, peanut butter and more. Next up on my list is peanut butter high protein banana soft serve. Watch out!
Question of the Morning
Have you ever made banana soft serve? Do you have any favorite additions or alterations?