Yesterday was a special day for my mom for two reasons.
It was her birthday
She got a brand new hairdo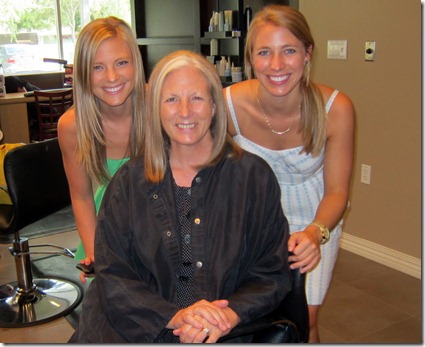 I think she looks so beautiful.

I know it may seem silly to make a big deal over my mom coloring her hair, but it really was a big deal.
When my mom went through treatment for breast cancer and lost her hair during chemotherapy, it grew back gray. She was hesitant to dye it back to the color it was before but always said that her gray hair reminded her of breast cancer and made her feel like she wasn't quite herself. After undergoing a double mastectomy and struggling with lymphedema to this day, I think my mom has dealt with her fair share of body changes, so hearing her talk about her "transformation" after cancer always made my heart ache a little bit.
When my sister and I spent the weekend with her in Orlando for the Jazzercise Tropic Heat event a couple of weeks ago, she yet again expressed dissatisfaction with her gray hair, saying she was seriously considering dying it. While Leslie and I assured her that she looked 100 percent gorgeous with her gray hair, we knew that she was ready to dye her hair back to the color it was before chemo.
For her birthday, I set up an appointment at a salon in St. Pete for the color and my sister and I popped in halfway through to surprise her and be with her when the foil was removed and her hair was styled.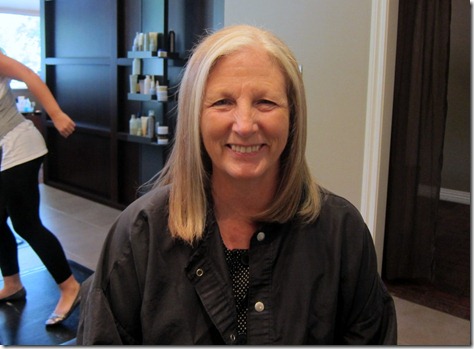 I felt a little emotional when I saw her because her hair looked so much like it did before her battle with breast cancer. She kept some of the gray, but added in more blonde and highlights. She was absolutely beaming and my sister and I couldn't stop talking about how fantastic it looked. It was a wonderful birthday!
(Also, thank you all so, so much for your kind comments about my mom on the PBF Facebook page yesterday. My mom read them all and they really touched our family. Thank you!)
Dinner
To celebrate my mom's birthday, my parents, sister, Ryan and I headed out to Hook's for sushi.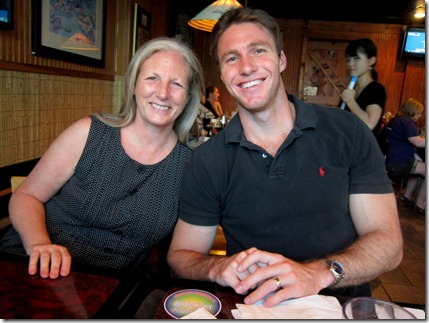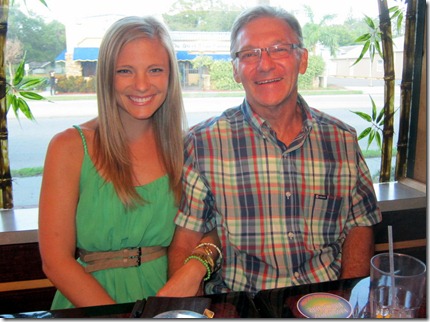 Our meal started with edamame and included a big sushi boat that we all shared.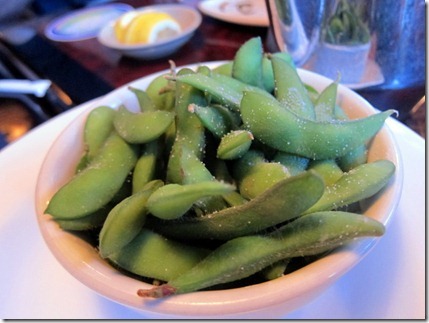 Then my mom was surprised with tempura ice cream that she let us all enjoy as well.
Even though we had a dozen cupcakes awaiting us back at my parents' house, when my mom informed our table that Menchie's frozen yogurt was buy one get one free, we had to stop by!
Big fro yo cup, I fill you up!
When we arrived back at the house, we broke in to the cupcakes that I brought with me from Ocala.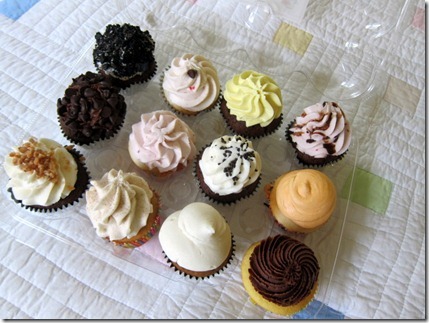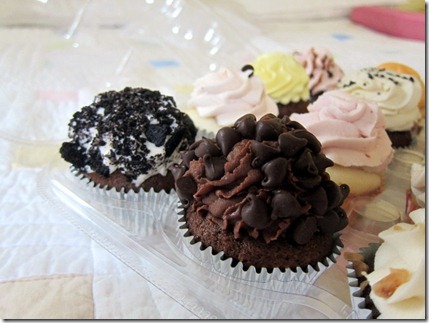 I bought them at The Blakely House, a beautiful Victorian home that doubles as a café, bakery, boutique and salon.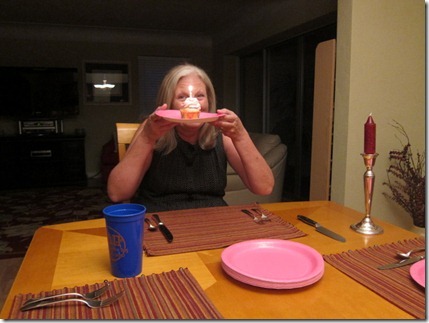 We cut the cupcakes into fours so we could try the flavors that called to each of us.
Domination.
It's safe to say that we were all in a sugar coma when the cupcake eating concluded.
It was a wonderful way to celebrate my mom's birthday!