Last night I dusted off one of the old swim suits I've held onto since my diving and water polo days in high school.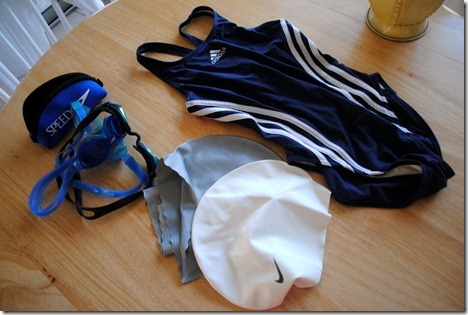 Early this afternoon, Ryan and I are participating in an indoor triathlon at our gym. Since we didn't find out about the race until a couple of weeks ago and signed up recently, I didn't train, but the triathlon seems manageable since it's not a traditional triathlon by any means. We'll be swimming, biking and running as far as we can in 15 minutes, so I already know I won't be huffing and puffing for more than 45 minutes. Phew!
When Ryan and I signed up for the triathlon, we assumed it would be first thing in the morning and now that it's in the afternoon I'm left feeling a little confused about what to eat before the race! (Apparently people were really annoyed that it's an afternoon event since the start time wasn't advertised and most people assumed it started in the morning like most races.)
For a morning race, I have my eating down to a science and make sure to eat and 1.5 to two hours before the race so I have a chance to digest since I cramp up really easily (even from just water consumption).
This morning, I made myself a breakfast with quick-digesting carbs and some protein in the form of Greek yogurt pancakes.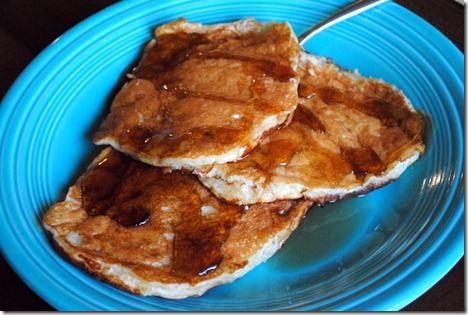 I made the pancakes using eight ounces of a combination of Chobani pineapple and mango Greek yogurt that the company sent me. I stirred the two yogurt flavors together to create a tropical flavor explosion for these pancakes. Mmm!
I love Greek yogurt pancakes. They're "eggier" than most pancakes and so, so good.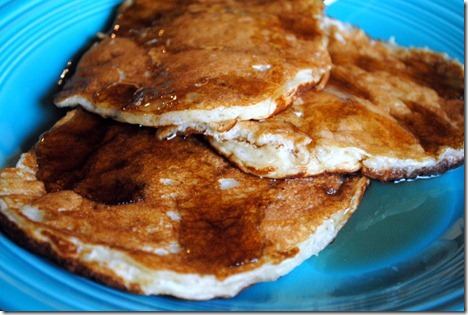 Since our triathlon doesn't begin until after my usual lunchtime, I'm thinking that I'll eat a substantial snack around 10:30 a.m. and hold off on lunch until after the race because I really don't want to cramp up during the race. It's the worst!
See ya after the big event!
Questions of the Morning
How long do you typically wait in between a meal and a race or a workout?
What does your typical pre-race meal look like and when do you eat it?