If you've been reading this blog for more than a month, you've likely picked up on my love for surveys. I think they're so much fun to read when other bloggers post them because I always love learning more about bloggers and readers through the comments on the survey posts.
The "This or That?" survey first popped up on Paige's blog and I thought it was a fun one so I figured I would share it with you guys today. Please feel free to play along in the comments section!
This or That?
Run or Work Out in the Heat and Humidity or the Freezing Cold?
Freezing cold. After running the Women's Half Marathon in intense heat last year, I'd much rather brave the cold! That race took it all out of me. Phew!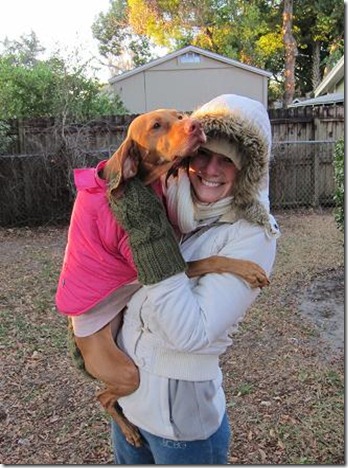 I think Sadie picks the heat.
Have Washboard Abs or Flat Abs?
Flat abs.
The Doctors. I had the chance to interview Dr. Travis Stork for the blog before and he was such a nice guy. Big fan!
Cardio or Strength Workouts?
Both in the form of circuit workouts! My all-time favorite.
Cravings: Protein or Carbs?
Carbs. I'm pretty sure most of my food cravings revolve around sugar.
Jillian Michaels or Bob Harper?
Bob! I respond a lot better to positive encouragement rather than yelling. I've heard Jillian's workout DVDs are awesome though and would love to give them a try since she can't scream in my face from the TV.
Frozen Yogurt or Ice Cream?
Frozen yogurt. I've always preferred soft serve, so when frozen yogurt chains started to pop up everywhere, I was in heaven.
Strength Training Upper Body or Lower Body?
Upper. Shoulders are my favorite.
Protein Powder or Food with Protein?
Food with protein, though I love a good protein smoothie.
They both suck.

Sweet x 10,000.
Workout Attire: Cute or Comfy?
Both, but functionality reigns supreme. After buying a pair of workout capris that slid down every time I started running, workout wear that does its job and stays put is the most important.
Body Pump or Heavy Lifting?
BodyPump! My beloved. Oh how I miss you. Come to Ocala, please!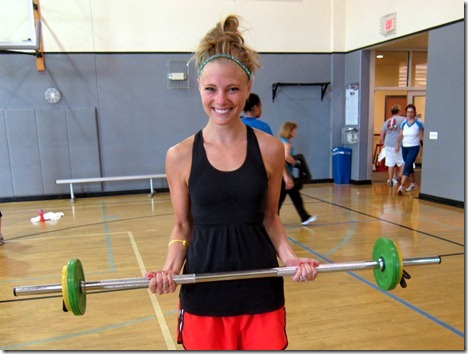 I haven't practiced Pilates enough to really answer this properly and I have a feeling Pilates and I could be buddies. I guess I have to go with yoga as a default.
I typically buy whatever apparel is on sale, brightly colored and cute. Lately I am loving my Reebok gear!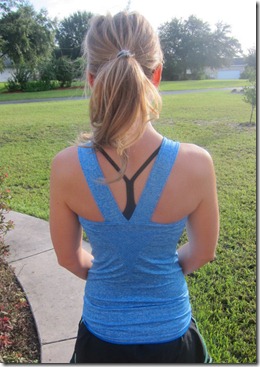 The extra-long length of their seamless long bra top is ideal for my long torso!
Running: Treadmill or Outdoors?
Outside. I'm still not sure how I managed to train for my first half marathon solely on a treadmill.
Whole Foods or Trader Joe's?
Sadly I've never lived within driving distance of Trader's Joes, so it doesn't get a fair shot. Whole Foods it is.
Summer or Winter Olympics?
Summer. Diving, gymnastics, swimming, track and field… I love it all!
Exercises Classes or Exercise Videos?
Classes. The energy of other class participants pumps me up! You know I'm a fan of Jazzercise!
Steamed veggies or roasted veggies?
Roasted, without a doubt.
Questions of the Day
You tell me…
Run or Work Out in the Heat and Humidity or the Freezing Cold?
Strength or Cardio?
Jillian Michaels or Bob Harper?
Sweet or Salty?
Exercise Classes or Exercise Videos?