I know I had a smoothie for breakfast, but after reading about all of your fantastic smoothie creations in the comments section of my morning post, a smoothie is all I wanted for lunch.
I promise it will be my last one of the day!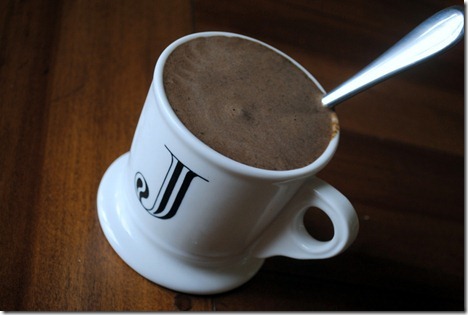 My afternoon smoothie included:
1 scoop chocolate protein powder
1 frozen banana
1/2 cup frozen strawberries
1 spoonful peanut butter
1 spoonful dark chocolate cocoa powder 
2 handfuls fresh spinach
Enough almond milk to get everything moving
By the time 1 p.m. rolled around, my stomach started grumbling again, so I took that as a sign to eat lunch number two and fixed myself a plate of leftover salmon and a mixture of roasted vegetables.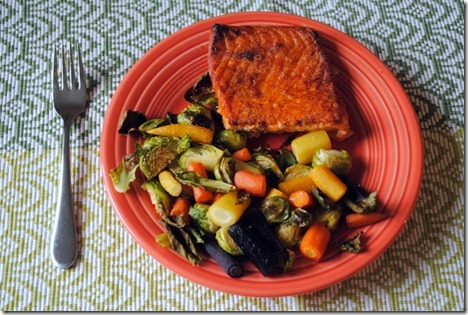 Much better. Perfect packing fuel!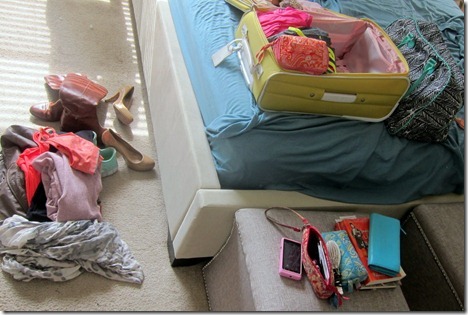 I'm almost done packing for tomorrow's trip to Oregon. Just the toiletries and my carryon bag remain!
This activity sent someone into a tailspin of despair.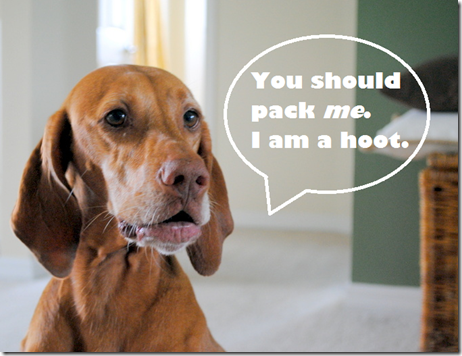 She's currently laying on top of my plane outfit in protest.
How quickly she forgets what a lovely time we had last night together at Dairy Queen.
Sadie sure loves their pup cups! I also heard a rumor from a few of you guys when I posted this picture on Instagram and Twitter last night that Starbucks gives dogs Puppaccinos! (You can see one on Wags 'n' Woofs.) Apparently Sadie needs to perfect her pathetic look because we've never been offered a Puppaccino.
Time to get your game face on, Sadie.
Question of the Afternoon
Do you know of any restaurants (chains or local places) that have special treats for dogs?
The park where we go hiking always has treats for dogs which I think it so neat! Sadie now knows to expect them, so whenever we roll down the window to show the ranger our park pass, she's right in the window, wagging her tail like maniac.