Lunch today came together in a flash thanks to leftover quinoa and roasted vegetables from dinner last night.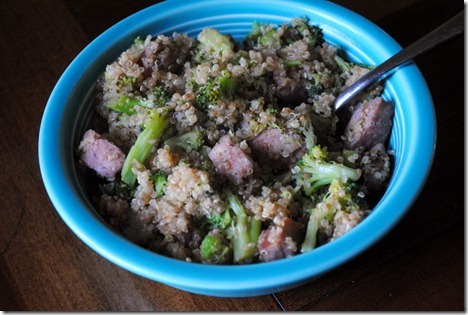 Quinoa + Apple chicken sausage + Roasted broccoli + Roasted cauliflower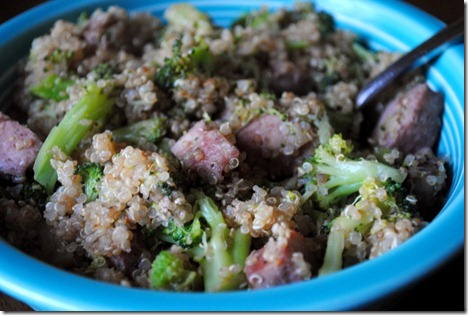 Three ingredients = Lunchtime winner
Missing the Classroom Environment
Since I graduated college in 2007, it has been a while since I've needed to study for anything. Aside from preparing for work presentations, I haven't really had to sit down and memorize anything for years.
Now that I'm studying for my personal training certification, I'm back in the game! A few of you have asked how studying is going and my answer is simply fine. Not particularly fantastic, but not horrible by any means. It's a bit slow at times, but I am learning a lot with each chapter I read.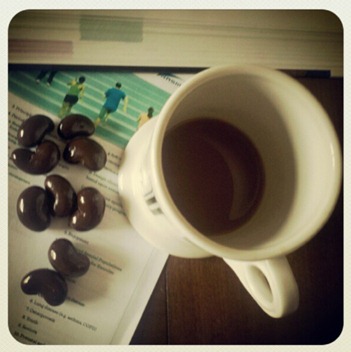 (Coffee and chocolate-covered cashews make excellent study fuel.)
Ever since I started studying, I've found myself really missing the classroom environment. As nerdy as it may sound, I genuinely liked being a student. When a charismatic teacher encouraged lively discussions that evoked thoughtful questions, I felt incredibly engaged. Even when a class was rather boring, attending class and following the syllabus kept me motivated and on track.
During my four years in college, I never took an online class because I always craved the classroom environment. Taking a class online, buying a big textbook and essentially teaching myself never really appealed to me. Now that I am doing just that as I study for my personal training certification, I am trying my best to stick to a self-imposed study schedule. It's going pretty well so far, but I would love to be able to discuss everything I'm learning with others in person as they learn the same thing, ask questions and feel engaged in the material beyond reading and note-taking. 
I know there are so many different learning styles out there and I am someone who absolutely loves in-person discussion, interaction and dialog. Reading from a textbook and taking notes is completely fine right now since the subject really interests me, but nothing can replace classroom interaction in my eyes.
Question of the Afternoon
Do you enjoy learning in a classroom or do you prefer to study the material by yourself and learn on your own?
Have you ever taken an online class? What did you think?