Before I married Ryan, I thought everyone loved soup.
It's comforting.
It's like home in a bowl.
It makes the whole house smell fantastic.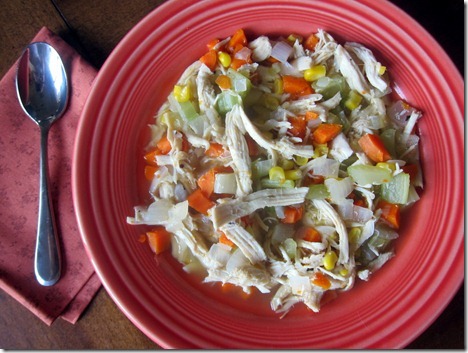 Clearly I'm on Team Soup!
Ryan, on the other hand, finds soup to be less than thrilling. To him, soup is an appetizer and leaves much to be desired. He thinks it needs more stuff.
When autumn arrives, I inevitably go on a soup kick. Though I'd love to curl up with a hot bowl of soup by the fire, eating a bowl of soup in Florida in the 80-degree fall weather means sweating at the dinner table.
But I cannot help myself.
It's October and it's hot outside, but this year's soup-makin' kick is in full swing!
And guess who gave my most recent soup recipe a thumbs up? Ryan the Soup Hater.
Last night I set out to make a chicken soup that we both would love. I added lots of vegetables (for me), lots of chicken (for Ryan) and minimal broth so it was extra chunky and more substantial.
Rave reviews all around!
Extra Chunky Homemade Chicken Soup
Ingredients
4 cups chicken broth
2 chicken breasts, cut in half
2 large carrots, chopped
2 celery stalks, chopped
1 onion, diced
1/4 – 1/2 teaspoon ground pepper (Use pepper to taste, but don't omit this! The pepper adds so much!)
1 cup frozen corn
Directions
Pour chicken broth into a large pot on the stove. Add chicken breasts and cook on medium-high heat for approximately 25 minutes until chicken is done.
Remove chicken from pot and set aside to briefly cool.
Add carrots, celery and onion to broth. Allow to cook on medium heat for approximately 12 minutes. 
Shred chicken and add chicken and pepper to broth. Simmer for 5 more minutes.
Add frozen corn, cook for an additional 2 minutes and serve.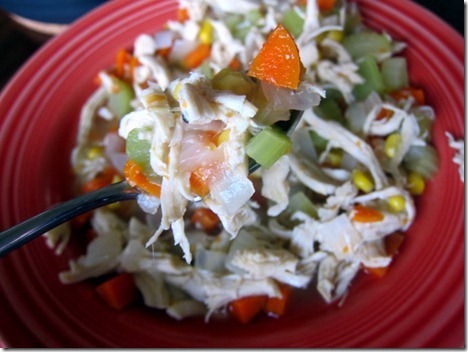 Try it out on a soup hater near you!