Last night I made a surprisingly scrumptious side dish.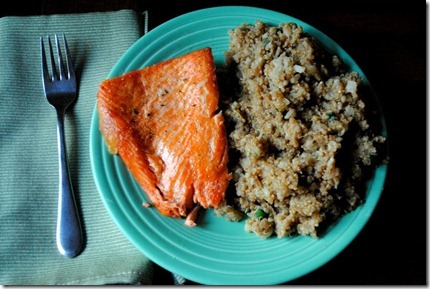 I started by cooking 3/4 cup of quinoa on the stovetop in 1 1/2 cup of water. Once the quinoa was nice and fluffy, I stirred in some sliced scallions, soy sauce and steamed cauliflower that I mashed with a fork.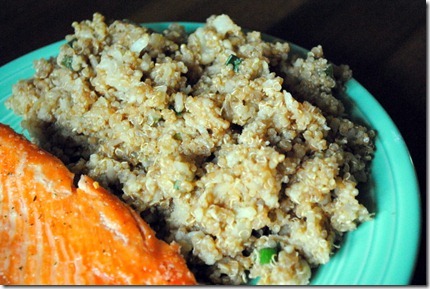 I want to try adding a fried egg and some shrimp to the quinoa next time since the dish already reminded me of fried rice. Yum! As you can see, I enjoyed my quinoa with a side of broiled salmon for dinner yesterday.
This afternoon, I used the rest of the leftover salmon on top of a big salad that included lots of veggies.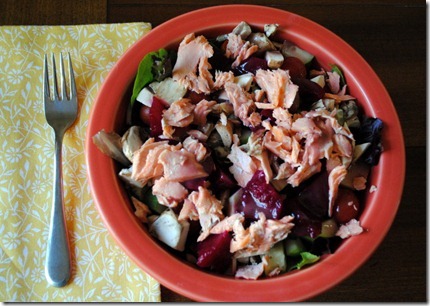 Oh so many colors!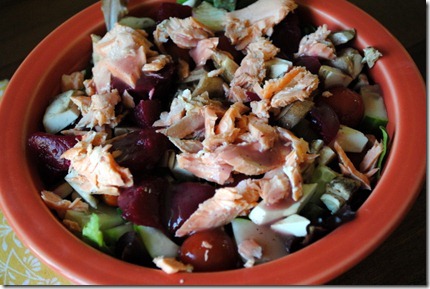 Though the salmon in this salad was tasty, the beets stole the show. I love them a little too much!
Question of the Afternoon
What is the best side dish you've made recently?
I loved the above quinoa dish an awful lot, but I seem to make my simple ginger curry roasted cauliflower weekly. It's just so darn delicious!