After a little over an hour of shopping this afternoon, I drove home with a bunch of little gifts to give Ryan for Valentine's Day tonight. I stopped into four different stores to find his treats, but it didn't take me too long since I knew what I wanted to buy. 
I spent the most time in TJMaxx, but that's to be expected since I cannot help but browse the clothing racks when I am there. I ended up buying a black cut-out dress for $25!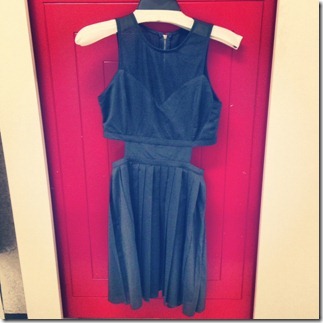 (The cut outs don't look quite as big when the dress is on.)
I've been on the lookout for another cut out dress ever since I wore a cut out maxi dress when we were in Hawaii. I think they're so much fun!
I justified the purchase saying it is my Valentine's Day date dress (to be worn at a later date since we're having a dinner party for two in our pajamas tonight). I also have four bachelorette parties to attend this year and figured it would be great to wear for some party time with my girlfriends!
Lunch
Since I was driving through downtown Ocala on my way home around lunchtime and had my laptop in the car, I decided to pop into Earth Origins to take advantage of their salad bar and free wifi.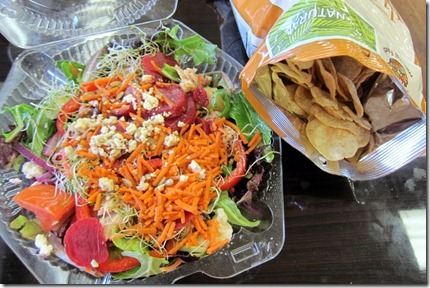 I also snacked on some hummus chips on the side.
While I was enjoying my lunch, I saw someone walk up to the silverware and seasoning station and spray their salad with something. My curiosity got the best of me and when I went over to check out the spray bottle, I saw that it was Bragg Liquid Aminos.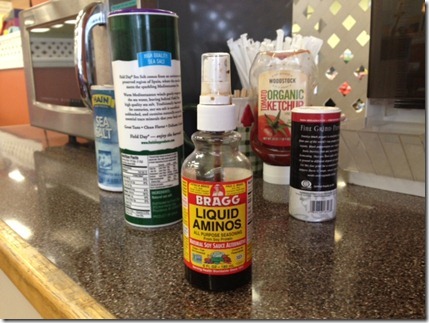 I've read about liquid aminos on a bunch of different blogs before and have always wanted to try it since it supposedly tastes like soy sauce. I sprayed a piece of tuna in my salad with the liquid aminos to try it out and it really did taste like soy sauce. Fancy that!  Just in case you'd like to read more about liquid aminos, I found this article that might interest you: What's the Deal With Liquid Aminos? Michelle also published an interesting blog post comparing liquid aminos, tamari and coconut aminos that you can find here.
Now I'm off to get a little more work done before it's time to break out the markers for my homemade Valentine's Day surprise. This should be interesting!
Question of the Afternoon
Have you ever tried liquid aminos?
Have you ever been inspired to try something because you read about it on a blog? What did you think?
Last weekend I bought a bottle of kombucha to try after seeing it on a billion blogs. I know some people love it, but I thought it tasted like butt. Ryan actually took a big swig of it without realizing it was effervescent and hilarity ensued. Let's just say the Fagans will not be hopping  on the kombucha train.