Early this afternoon, I headed out to a Taste of Ocala committee meeting. We discussed room layout, sponsors and beverages and the 90-minute meeting passed quickly.
On my way back to our house, I popped into a local alterations shop because a dress I am getting altered was supposed to be ready to pick up. Unfortunately there was a communication mix up between the person who took my order and the woman who was supposed to do the alterations, so my dress wasn't ready, but the trip wasn't a complete loss.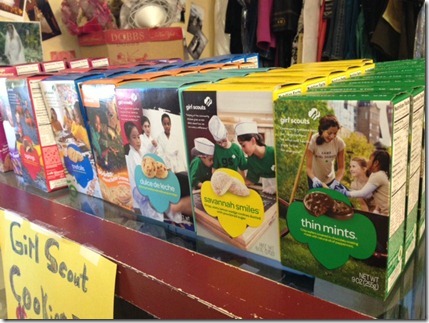 Girl Scout cookie season is upon us!
I made sure to buy a box of Caramel deLites (aka Samoas, but I will forever call them Caramel deLites) and Thin Mints before driving home. The Thin Mints immediately went into the freezer because frozen Thin Mints are the best! When I was growing up, my family always had a box of Thin Mints in the freezer and I loved crumbling them up over ice cream. Such a yummy treat!
Lunch
When I walked through the door, I immediately grabbed a small apple to eat as I prepared my lunch.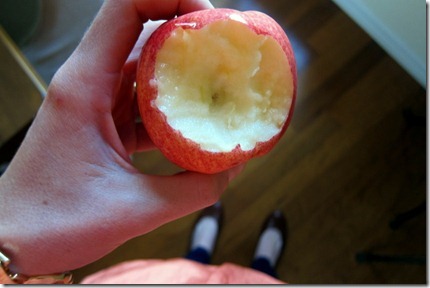 As for my main meal, I made myself a big salad and served it with a cup of Chobani Greek yogurt.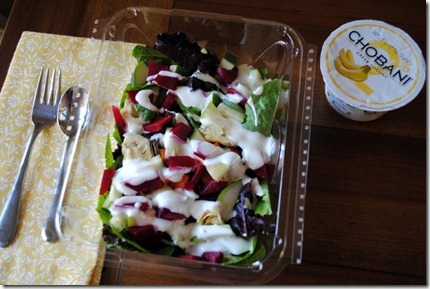 And you better believe I made my salad in the lettuce container to eliminate dirty dishes. Yes!
Question of the Afternoon
What kind of Girl Scout cookie is your favorite?
Do you call the cookies with caramel, coconut and chocolate Caramel deLites or Samoas?
Were you ever in Girl Scouts?