Starting the day with some tunes from Sister Act is always a good way to go!
Yes, the song starts out slow, but just try to resist singing along and dancing your heart out when they start breaking it down and singing "Oh Maaaariiiiiia!" (Michaela, Carrie, Leah and Kristen, this song makes me miss you girls so much.)
Though I adore the original Sister Act soundtrack, the Sister Act II soundtrack will always be my favorite. I used to listen to it nearly every day before high school as I got ready in the morning. "Oh Happy Day!" <—That boy can sing.
My workout today began with 30 minutes of cardio split between the treadmill and the elliptical. "Hail Holy Queen" motivated me to kick things up a notch on the treadmill and helped me get in the zone.
I followed up my cardio with an upper body workout that had my muscles burning.
Breakfast
Breakfast this morning was an old standby!
Toasted English muffin + Cheese + Eggs + Jelly for a little sweetness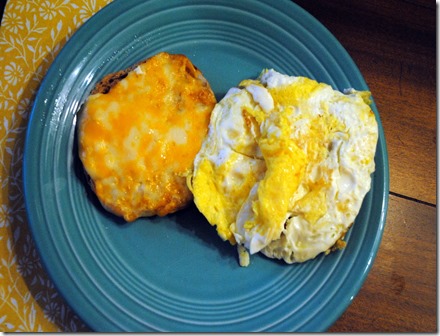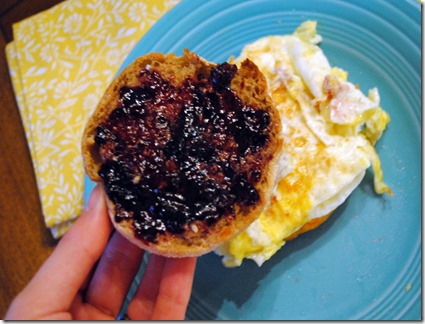 Sweet and savory all the way!
BICBands Giveaway Winner
The winner of the $40 gift card to BICBands.com is…
Janay Campin: "There is a little city my dad grew up in that is full of our relatives that are Irish. My grandma grew up there and her parents came from Ireland. All of my dad's side and their friends have a HUGE St. Patrick weekend get together. It's always so much fun with potato bobbing, an Irish jig contest, a parade and lots more. Moving to Chicago this will be my second year not being able to travel back for the festivities. So this year my fiance and I have decided to run in a race. The Lucky Run. One of the fun St. Patrick's BICbands would be perfect to add to my wonderful accessories!"
Congratulations, Janay!
Please email me at pbfingers@gmail.com and I'll get you your gift card right away!
Question of the Morning
What is your all-time favorite movie soundtrack?
My favorite movie soundtrack is definitely Sister Act II, but I also love listening to the soundtrack from Home Alone at Christmastime. The soundtrack from Remember the Titans is also pretty stellar.