I've said it before and I'll say it again. I have the neediest dog in all the land.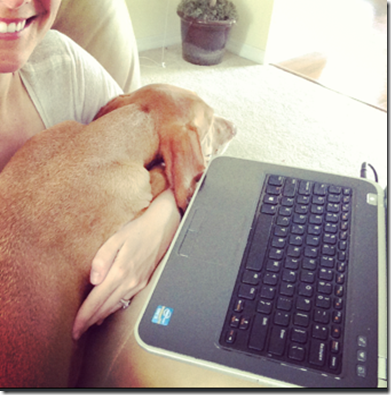 Note me. Note my computer. Note my dog.
She always has to be in the middle of the action!
I usually work out of my home office, but for the past few days I've felt like changing it up a bit and working from my laptop. This puts me at the mercy of Sadie and her extreme desire for attention.
For example, in the above picture, Sadie was only sweet and docile because I was petting her and talking sweetly to her until I snapped the photo. The minute I started typing up this blog post, Sadie got all huffy and did what we call the "face-to-face" maneuver in our house. It's pretty self explanatory. Her face has to be on our face. Yes, our faces must be physically touching.
Sadie is not licking us during face-to-face time. She's just lingering creepily (or sweetly?) as her face rests against our face… following our face with hers, no matter which way we turn.
Sadie absolutely loves to be face-to-face with me, Ryan, our families and a handful of our friends that she knows quite well, but for the longest time I couldn't figure out why she seemed especially keen on face-to-facing with my sister. Sadie has always been obsessed with Leslie's face.
A few weeks ago, I put Aquaphor Lip Repair on my lips because they were dry and Sadie's normal face-to-face tendencies went haywire. She couldn't get enough of me. She licked my face and when I would turn away, she would turn right along with me. This went on and on.
BINGO!
My sister wears Aquaphor all the time on her lips to keep them soft. Sadie is ridiculously in love with Aquaphor.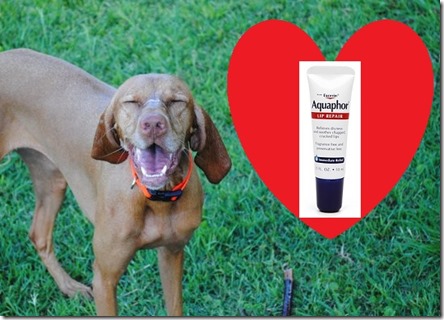 Pet owners, please tell me your pet has an odd affinity toward some kind of lip gloss or lotion that you wear. I fear that Sadie is some kind of a looney. An Aquaphor freak looney.
Lunch
Back to your regularly scheduled programming…
After I was done typing up my morning blog post during my brief break at the gym, I completed a 30 minute workout on the treadmill before it was time to do Day Two of Jess' Summer Shape Up Program. I completed four rounds of today's circuit before I had to train a client.
Once my training was done for the day, I ate a quick lunch of tuna salad with a sliced pita, an apple and some almonds at the gym.
I had about 30 minutes to digest my lunch before it was time for me to teach water fitness. It was hot and sweaty and awesome!
At one point, a bee flew into my ponytail and decided to hang on which completely freaked me out. I shooed it away, but then it came back and wouldn't let go! I ran over to the lifeguard who helped me get the bee out of my hair as everyone in and around the pool cracked up. It was a sight to see! The bees around our pool are awfully aggressive.
Once I got back home, I took a much-needed shower and fired up the computer to blog and get some work done. And here we are!
Question of the Afternoon
Pet owners: Is your pet oddly obsessed with a lotion, chapstick or other product that you occasionally wear?