It seems like this summer has been unusually wet and rainy but the rain usually holds off until the mid-afternoon. That was not the case today and the thunderstorms rolled in at 8 a.m., completely scrapping our running club meeting this morning. I was a little bummed that our first run was canceled, but hopefully we'll have better luck next week.
I spent the rest of my work day personal training and conducting fitness assessments. I also taught a water fitness class and inhaled lunch in the break room in between appointments. It was a busy day!
Lunch
Lunch today was simply reheated leftovers from last night's dinner.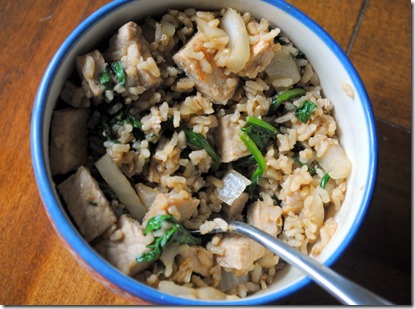 (Picture obviously snapped last night!)
I prepared a big batch of brown rice and tossed it with sautéed onion, spinach and pork before adding a few splashes of soy sauce for a little salty flavor.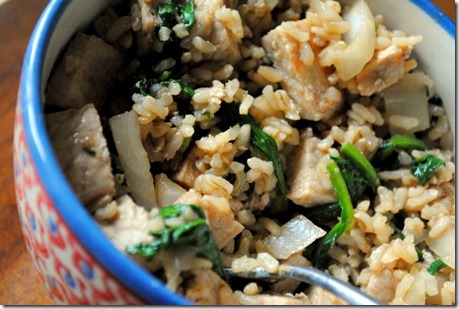 Just reheat and eat! Luckily the leftovers tasted just as good as last night's dinner.
Now I'm off to type up some emails to follow up with the fitness assessments I conducted today. I am hoping to crawl into bed early tonight and have more time to chat with you guys tomorrow!
Of Possible Interest