Another Tuesday, another workout!
My workout began with a 20 minutes on the treadmill that looked like this:
5 min. walk at 4.0
1 min. jog at 6.2
1 min. run at 7.5
1 min. walk at 4.0
Repeat 1 min. jog, run and walk sequence five times
Once that part of my workout was done, I headed into the weight room to do some strength training that focused on my biceps and triceps.
I have a brief reprieve right now until I have to head back to the gym for personal training and teaching. Through the end of August, I am in charge of a beginner's running club that meets at the gym on Tuesday mornings. We won't be running that far (it's already really warm outside in Florida by 9 a.m.) and our first meeting is today! Hopefully day one goes well!
Breakfast
After the gym, it was time for breakfast.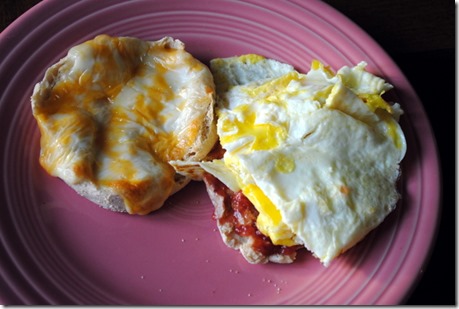 I made myself an egg sandwich with two fried eggs, cheese and jelly.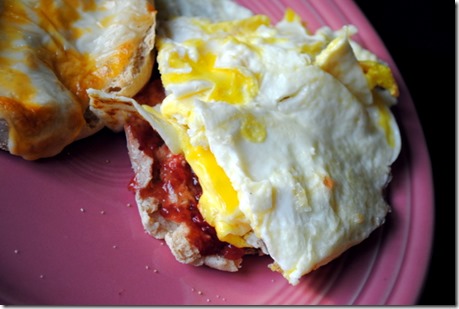 I adore the salty and sweet flavors in this sandwich. It's so darn good!
A hot mug of coffee rounded out my meal.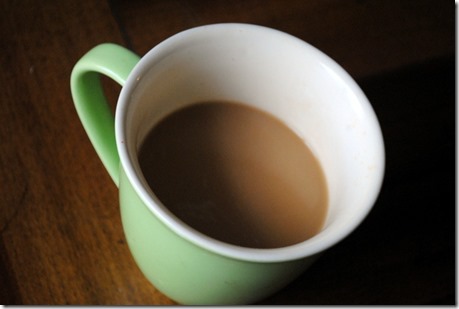 The Weight of Your Food and Your Appetite
Yesterday, as I ate my lunch in the break room, I flipped through the latest issue of Men's Health magazine. An article all about hunger caught my eye. The article cited a study conducted by Barbara Rolls, Ph.D., a professor of nutritional sciences at Penn State University.
Rolls' study examined the impact of eating a large-volume 100-calorie salad (3 cups chopped romaine, half of a medium carrot, one sliced radish, half of a tomato, two tablespoons reduced-fat cheddar cheese, half of a medium cucumber and two tablespoons of reduced-fat Italian dressing) before or with dinner. Participants who ate the salad ate 11 percent less in total calories. Another study conducted by Rolls found that consuming a broth-based soup or an apple before a meal helped curb calorie intake.
The conclusion? People tend to eat a fixed weight of food every day, regardless of calorie or nutrient content.
The article suggested eating lots of fruits and vegetables since they're very low calorie-dense foods and consuming a reasonable amount of low density foods like whole grains, legumes, lean proteins, starchy vegetables and low-fat dairy. It suggested that people should eat smaller portions of medium-density foods like cheese, nuts, high-fat meat, dairy and bread and limit consumption of high-density foods like fried foods, candy and cookies.
The last part of the article sounded like things we've all heard before: Eat your fruits and vegetables and limit sweets and fried foods. But, I think the beginning of the article has some merit. I know that I tend to eat whatever is on my plate at dinner, and am left feeling more satisfied if my plate is filled with nutritious, voluminous foods. I genuinely enjoy eating, so I like it when I have more to eat!
Question of the Morning
Do you think that the weight/density of the food you eat impacts your appetite?