If you are anything like me, you are a big snacker. I've never been one to eat three big meals a day and have always gravitated toward lots of snacks. Since I am working at the gym, I need fast, filling snacks that I can quickly eat on the go.
After dinner yesterday, I got to work in the kitchen. Inspired by the poppability of my oatmeal walnut date balls, I set out to make another perfectly poppable snack that I could grab from the break room and eat in between training clients or before teaching a group exercise class.
Since I was feeling too lazy to break out the food processor (okay, I was just too lazy to clean it), I stuck with ingredients that didn't need to be blended, chopped or altered too much. And course peanut butter found its way into the recipe! This snack is full of healthy fats and filling fiber.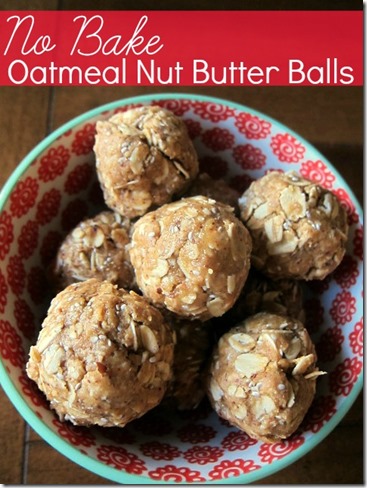 No Bake Oatmeal Nut Butter Balls
Recipe adapted from Food.com's No Bake Granola Balls
Makes 12 – 14 balls
Ingredients
1 cup old fashioned oats
1/2 cup ground flaxseed
1 tablespoon chia seeds
1/4 cup almond butter
1/4 cup peanut butter
1/2 teaspoon cinnamon
3 tablespoons honey
Directions
Combine all ingredients together in a bowl. Stir together until everything is thoroughly combined.
Roll dough into balls and refrigerate for one hour. (You can eat them right away, but I refrigerated them overnight so they maintained their shape a little better.)
I hope you enjoy this snack as much as I do!