Oh hey there! I hope your Tuesday has been nice and productive. Sadie has been working hard on perfecting her guilt trip face.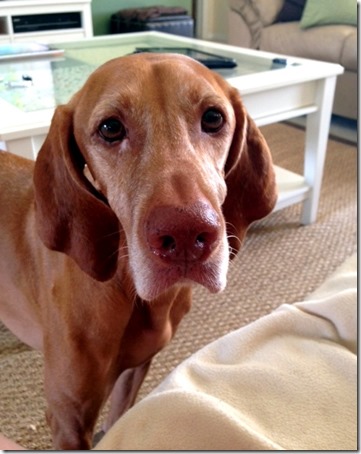 That pitiful look worked on me, as always, and she got a bite of my string cheese as I typed up this blog post. I'm such a sucker.
Work
After I published my morning post, I drove to work and spent most of the day in meetings before it was time to teach water fitness. Today's meetings addressed the Livestrong 12-week cancer survivor program we'll be implementing next month. I am helping with all of the marketing and planning efforts surrounding the program and will spend tomorrow driving around town, reaching out to people in the area who might be able to help with the kickoff. I hope it's a success!
Lunch
In between work, I grabbed lunch in the break room. For today's mid-day meal I packed a chicken salad wrap and ate it with a cup of 2 percent Greek yogurt.
Now I have dinner on the brain. I hope you have a great evening!