Good afternoon, my friends!
How is your Thursday going? Things are looking up around here!
I am officially done with work for the week and will be driving up to Jacksonville with Ryan this evening to spend the night at my parents' place before catching a 6 a.m. flight to New Jersey. It will be one heck of an early morning tomorrow, but I am thrilled for all of the wedding festivities that await us when we arrive in New Brunswick.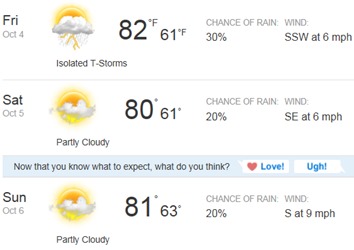 I checked  the weather and apparently temperatures climbed to 82 degrees in New Brunswick today! I was kind of hoping for some chilly fall weather and a change of pace, but sunny weather is great, too. I guess I'll leave my boots behind!
Workout + Work
Ryan and I were up at 5 a.m. today for a workout. My legs are still so stinkin' sore from Wednesday's workout, so I concentrated on chest and shoulders at the gym today and left my poor hamstrings alone.
After a workout and protein pancakes for breakfast, I typed up my morning blog post and drove to the gym to start my work day. I had a great time teaching TRX and water fitness and my work day was over in no time at all.
Lunch
In between classes, I needed to run home to pick up something I forgot to bring to work with me and rather than eat the leftovers I originally packed, I decided to make myself a big salad while I had access to our fridge.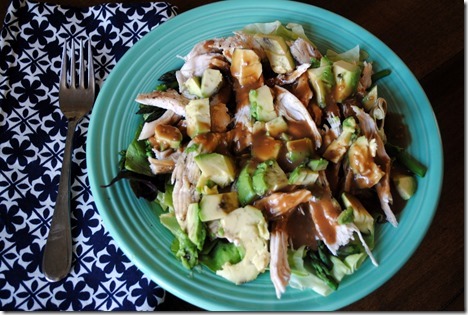 I made a salad topped with avocado, chicken, asparagus and ginger dressing.
It was a good one and fueled me through water fitness with no problems!
Now it's time to pack and wrap up one last project before we're off to Jacksonville.
Enjoy your evening!