Good afternoon! How are you guys doing today?
Things are going quite well around here! After working through the morning, I arrived home to an energetic dog who needed some attention. I wanted to take advantage of the gorgeous weather and headed outside with Sadie for some fresh air.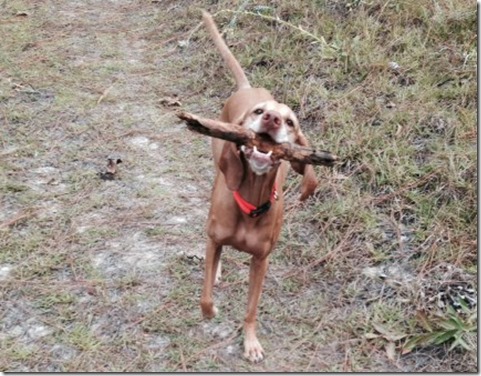 She quickly found a stick and had the best afternoon of her life. Okay, so it wasn't the best afternoon of her life, but she sure acted like it was in her top three best afternoons ever. Oh the joys of owning a dog! They remind you that the simple things in life are the best things.
Like sticks!
Lunch
Once Sadie and I were done with our afternoon playtime, we headed inside for lunch.
I made myself a bowl of tuna salad with carrots and celery and served it with a box of Green Giant steamed green beans and almonds and an apple.
I ended up going back for a second apple because my first one was too tiny. I bought a bag of small, organic apples at the grocery store yesterday and it feels like two of the baby apples equal one normal apple. They are super sweet and so good!
Coming Up in November
We're four days into another month and I have lots of fun stuff on the horizon this November.
In chronological order:
And I'm really hoping the cooler weather sticks around in Central Florida for a little while. It's finally starting to feel like fall. I'm even sipping on hot apple cider tea right now and loving it!
Question of the Afternoon
What is one thing you're looking forward to in November?
Any races or athletic competitions on your agenda this month?