Anyone out there feeling hungry this morning?
How about a big box of healthy, nutritionist-approved snacks just for you?
Last week I had the chance to try one box of goodies from NatureBox filled with several bags of wholesome snacks.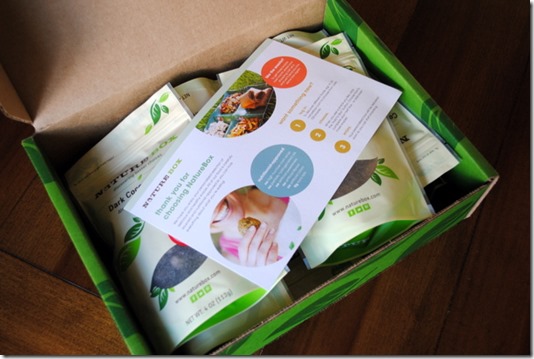 NatureBox is a subscription-based monthly snack box that is delivered right to your doorstep. You can choose a box filled with five bags of snacks (the "Deluxe Snacker" for $19.95), 10 bags (the "Happy Snacker" for $29.95) or 20 bags (the "Smart Snacker" for $49.95). The boxes ship for free (with the exception of Hawaii and Alaska where shipping is $1.97) and each snack bag within the box is a full-size bag with three to five snack servings in it.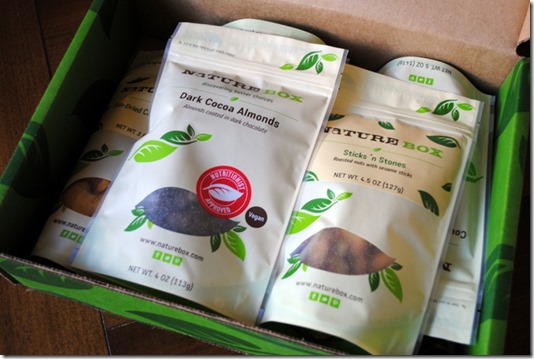 My sample box included the following snacks:
Dark Cocoa Almonds
Sticks 'n' Stones (sesame sticks with mixed nuts)
Mango Almond Bikes
Chia Seed Crackers
Dried Peaches
Sunflower Seeds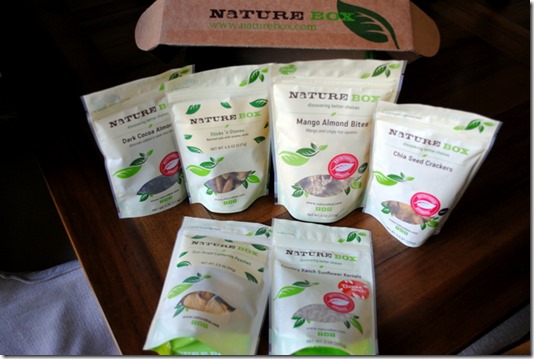 Over the course of the week, I tried every single snack and thought the sesame sticks with nuts and the dark cocoa almonds were superstar snacks! They were both so delicious and satisfied my craving for something salty and sweet. Every snack included in my box was perfectly portable, making them ideal for on-the-go snacking. I brought the dark cocoa almonds to the gym so I had something good to eat when I was at work. I also packed the sunflower seeds in my duffle bag to bring with me to my hotel room in Orlando last weekend so I could grab a handful here and there when I got hungry and needed a snack!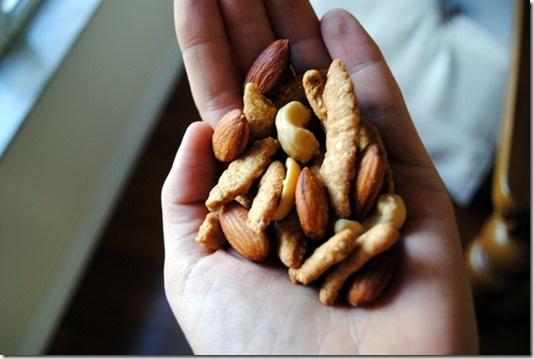 Every single snack delivered in a NatureBox must past the company's quality standards:
No High Fructose Corn Syrup
No Partially Hydrogenated Oils
No Trans Fats
No Artificial Sweeteners
No Artificial Flavors
No Artificial Colors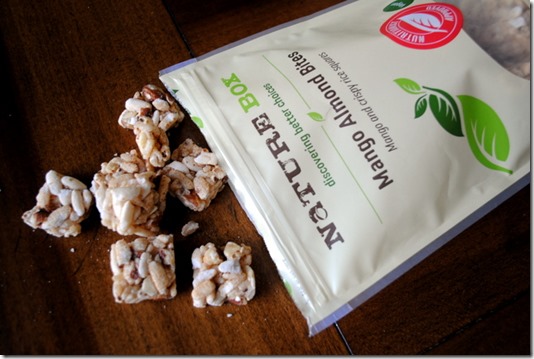 If you have been drooling as you read about these delicious snacks, the next part of this post should make you happy!
Two PBF readers will win a free 6-month subscription to NatureBox.
To enter this giveaway, browse the NatureBox snack page and comment back on this post telling me which snack you'd most like to try if you win. Please note that this giveaway is open only to readers within the United States. If you would like to try NatureBox for yourself, you may also use the coupon code PBF50 to receive 50 percent off your first box of any size (valid for new customers only).
I will randomly select a giveaway winner on Saturday morning.
Good luck!
***
Disclaimer: While this post is sponsored by NatureBox, the links included within the post are not affiliate links and I am not earning commission from any snack boxes purchased.