The following post is sponsored by FitFluential, LLC on behalf of Polar. As always, all opinions are my own. Stay tuned for a giveaway at the bottom of this post where you have a chance to win a Polar Loop of your own!
Polar Loop Review
Having a goal motivates me. It doesn't have to be a big, lofty goal. Small goals add up to some pretty amazing accomplishments, right?
When I received the opportunity to try out the Polar Loop, an activity tracker that notices every jump, step and run, I was very intrigued and immediately agreed! I had a feeling it would motivate me to move more throughout the day and I was absolutely right. That is my favorite thing about the Polar Loop: It's motivating!
I see so many people at my gym wearing fitness trackers and I've heard more than a few of my clients rave about them, so I couldn't wait to set up my Loop and get moving when it arrived in the mail.
Set Up + Battery Life 
A little tip: When fitting the Polar Loop to your wrist, check out the instructional How To video online.
Though directions are included, I found it much easier to watch someone go through the steps of fitting the Polar Loop to their wrist than figuring it out with the illustrations. 
Once I had the Polar Loop fit to my wrist, I charged it using the USB cord that came with the Loop and set up an account on Polar.com. An important side note: The Polar Loop has great battery life and charges quickly! I figured I would need to charge it at the end of each day, but it lasts several day without needing a charge. 
When I created an account on the Polar Loop site, I loved checking out the map of the world to see what people around me were doing! I zoomed in on Florida and enjoyed looking at the activities my fellow Floridians were completing.
You can also set your profile to private (which is what I did) if you'd like so no one can see what you're doing and you can be oh-so-sneaky. Or, you can allow only certain people to see your profile by adding them as "followers" which I think is a great way to sync up with friends and family members to motivate each other to move more throughout the day.
Once the Polar Loop is set up, you can press the button on the front of the tracker to view the LED display that flips between showing you the time of day, calories burned, total steps and your daily activity goal.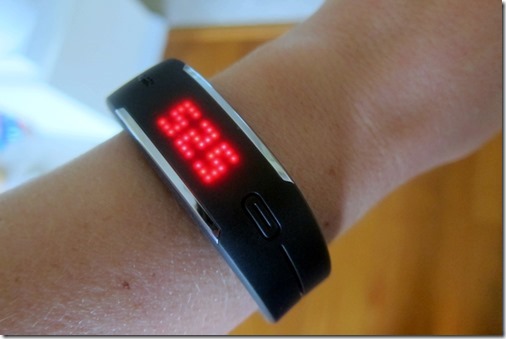 Polar Flow App + Inactivity Alerts
The Polar Loop can also connect to the Polar Flow (free) app and give you real-time updates about your movement and activity levels for the day.
Here's an example of the breakdown: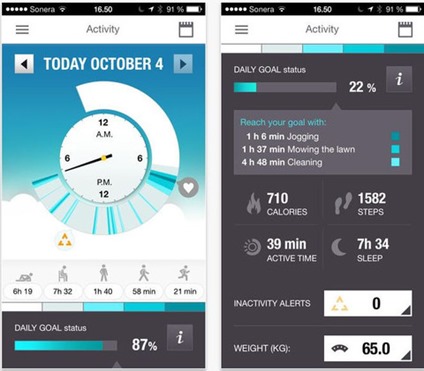 One thing I really liked about the Loop was the inactivity alerts! If you've been sitting for too long, an alert will let you know and that was a big motivator for me to get off my butt and walk around or move even if it was for only five minutes or so.
Adding Your Heart Rate Into The Equation
The Polar Loop does not come with a heart rate monitor so this is an added cost if you want it, but it's a great way to get accurate data about your overall calories burned and how hard you are working at certain times during the day. The Polar Loop retails for $109.95 and the heart rate monitor is an additional fee, but even without the heart rate monitor the Loop can tell the difference between activities like sleeping, walking, running and more. It's also safe to use in the pool! 
What Trends Did I Notice?
Some days it was really easy for me to hit my activity goals. On Saturdays, Ryan and I often work out and then take Sadie for a long hike after breakfast, so meeting my activity goals on Saturdays is rather easy. (And if I incorporate running into my workouts, it's much easier to hit my goals!) On other days when I am working from home or even days when I am personal training, it's a little harder because I am often sitting or standing around and only walking from one place in the gym to the next.
Since my hometown is not very walkable, the best way I found for me to hit my activity goals was to increase the distance of Sadie's walks!
So, I think it's safe to say Sadie is the Polar Loop's number one fan.
On days when I might be more inclined to play fetch with Sadie in the backyard, if I was under my goals on the Loop, I'd leash her up for a walk instead so she wasn't the only one getting exercise.
Polar Loop Giveaway
Now here is your chance to win a Polar Loop of your own!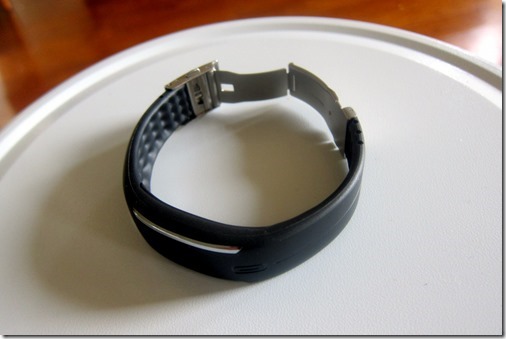 To enter this giveaway, please comment on this post and tell me what feature of the Polar Loop intrigues you most. Are you most excited to see your overall activity for the day tracked? Are you interested in your sleep data? Do the inactivity alerts intrigue you? Let me know!
I will randomly select a winner on Friday.
Good luck!