Since salmon seems to be on our weekly dinner menu, I am always looking for new ways to prepare the flavorful fish.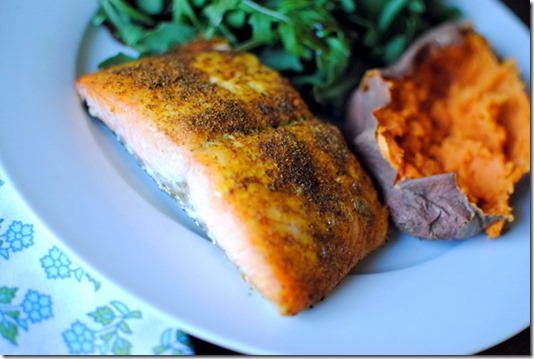 Last night, I grabbed some of my favorite spices that I typically reserve for chicken or vegetable dishes and tried them out on a fresh salmon filet.
I discovered garam masala last year and ever since then I cannot seem to get enough of the spice. (If you're looking for a crock pot friendly recipe featuring garam masala, check out this recipe: Crock Pot Garam Masala Chicken and Chickpeas) I use McCormick's garam masala (I buy it at Publix) and love the aromatic combination of flavors from coriander, cumin, cinnamon, cardamom and black pepper.
With garam masala serving as the base for the spice mix I made last night, I added garlic power, turmeric, salt and pepper before sprinkling the spices on top of the fresh salmon filet.
The end result was fabulous. Ryan and I both had wonderful things to say about this dish!
Garam Masala Salmon
Ingredients
1 pound fresh salmon filet
1/2 teaspoon garam masala
1/2 teaspoon turmeric
1/4 teaspoon garlic powder
1/8 teaspoon salt
1/8 teaspoon freshly ground pepper
Directions
Preheat oven to 450 degrees
Place salmon, skin side down, on a non-stick baking sheet
Combine all spices, salt and pepper and stir together
Sprinkle spice mix on top of salmon filet
Bake for approximately 13 – 15 minutes, or until salmon flakes with a fork
If you decide to give this recipe a try, I hope you love it as much as we did!