Please see my Blogging page for more detailed posts all about blogging!
Blogging Questions
I really want to start a blog but I am so overwhelmed. How do I start blogging?
The following posts were created in response to this question: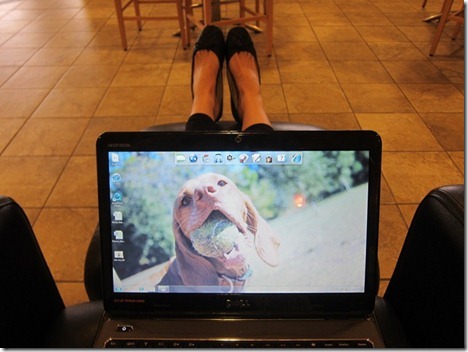 How do I get more people to read my blog?
Please see this post: How to Increase Blog Readership.
What kind of camera do you use to take pictures for your blog? Do you have two different cameras…One for blog pictures and one for every day things?
I do have two different cameras. I use my Nikon D3000 whenever I can, which is typically during mealtimes at home. This camera is awesome and I still have so much to learn about how to use it to its full potential. It's great for taking action shots of Sadie!
For everyday pictures and portability's sake, I often use my Canon PowerShot S95, which is fantastic (especially in low lighting). When I leave the house, I take my Canon with me since it's smaller and less of a hassle to carry around with me.
(Taken with my Canon S95.)
Do you edit your photos? What editing programs do you use?
I will often edit my food photos using Picasa, a program offered by Google that you may download for free. Please see this post all about the pictures that pop up on this blog.
What program do you use to blog?
I use Windows Live Writer, a free downloadable program, to blog. It saves me a ton of time and I highly recommend it to those who blog using a PC. (Though you can use a certain program to make WLW compatible with Macs, I've heard it's a bit spotty. Most Mac users I've talked to recommend blogging with Ecto.)
PBF-Specific Blog-Related Posts