What does your fitness routine look like?
I document all of my daily workouts on my Daily Workout Log. I try to incorporate strength training into my routine three to four days a week and focus on cardio or circuit-style workouts two days a week. This changes a bit when I train for races and focus more on running, though I always try to make strength training a priority.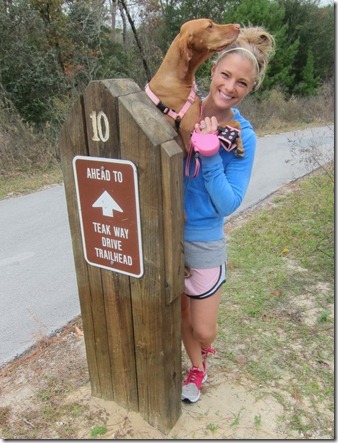 Do you ever have days where you just don't want to work out but still do? If so, how do you motivate yourself?
Of course I have days where I don't want to work out! For me, scheduling my workout first thing in the morning makes it a lot easier. When my alarm goes off and I don't want to get out of bed, I call upon some of my favorite exercise mantras to get me moving. I love the mantra, "I've never regretted a workout." Knowing how good I'll feel after a workout is often all the motivation I need to get my booty to the gym.
If you're looking to make the transition to working out in the morning, the following posts may be of interest to you:
I also read somewhere that it takes 21 days for something to become a habit, so if you're losing motivation, commit to working out regularly (still schedule a rest day or two!) for 21 days. It will likely become part of your routine!
How many minutes/hours of exercise to you average per day?
I typically workout six days a week for no more than an hour a day.
I don't have access to a gym and am looking for workouts I can do at home or on to go. What are your favorite workouts that don't require fancy equipment?
Circuit workouts that combine cardio, strength and plyometric movements are my absolute favorite! You may see some of my favorites in this post: At Home Workouts.
Have you ever been injured from a sport or exercise? How did you deal with it?
Yes! I had bursitis in my hip from running and couldn't run or do any high impact exercises for several months during the summer of my junior year in college. It was honestly a very difficult thing for me to deal with and I was very frustrated by the set back. I met with a wonderful doctor who showed me how to properly stretch my hip (I literally never stretched my hip before this injury), and I now take the time to stretch before and after my runs.
While training for a half marathon in August 2010, I also experienced a bruised heel, which set back my training by three weeks.
Dealing with an exercise set back is hard. You may see how I handle injuries and fitness set backs in the post I did about Staying Positive Through an Exercise Setback.
I really want to get into running and my dream is to run a half marathon. Do you have any tips?
I am not a naturally talented runner. Running is really hard for me! (You may read my running story here.) When I first started running, I wasn't sure I could run a 5K without stopping but committed myself to training and have since completed four half marathons. I really believe that anyone can run a half marathon (assuming they don't have any serious injuries.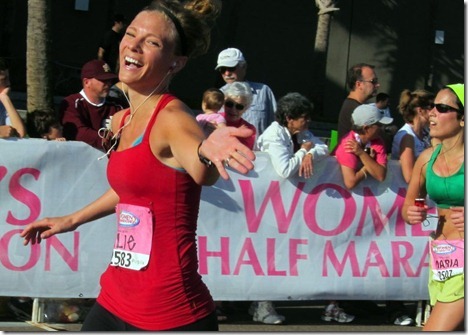 What is the BodyPump class you always talk about?
You may see my post about BodyPump here.
Do you do a particular ab workout? How do you keep your stomach so flat? Have you found a particular set of exercises really works for you? Do you find any particular foods help you achieve a flatter tummy?
I naturally gain weight in my lower half first (hips, butt, legs). However, if I do notice that my stomach is getting a little softer, I'll up cardio and try to incorporate more intense cardio sessions (like interval training) into my routine which my body seems to respond to best. Also, I cannot stress the importance of healthy eating when it comes to carrying weight in my stomach. I will literally be walking around with a food baby belly if I have a weekend full of ice cream, cookies and other indulgent foods.
As far as abdominal workouts, I do not have a set routine when it comes to working out my abs. I typically workout my abs a couple of times a week after upper or lower-body strength training. I find that cardio and healthy eating is really what keeps my stomach the flattest. I'm a firm believer in the saying, "Abs are made in the kitchen."