How did you get in to freelance writing?
I discuss my transition into freelance writing, pitching story ideas to magazines and local publications and more in this post: Freelance Writing 101.
What took you from Illinois to Florida? And do you miss the Midwest?
My family and I moved to Florida from Palatine, Illinois after I graduated high school in 2003 because my dad accepted a job in St. Petersburg.
I really miss certain aspects of the Midwest. I think there's something to be said for "Midwestern values" and, generally speaking, I feel a genuine warmth from people who come from the Midwest. I do not miss the weather (except on Christmas).
What are your favorite clothing stores?
My favorite stores are J.Crew, Banana Republic, Off 5th (Saks Fifth Avenue Outlet), Marshalls and T.J. Maxx. Now that I live in Ocala (far away from most decent shopping!), I do a lot of my shopping online. My favorite websites for online shopping are RueLaLa and Hautelook.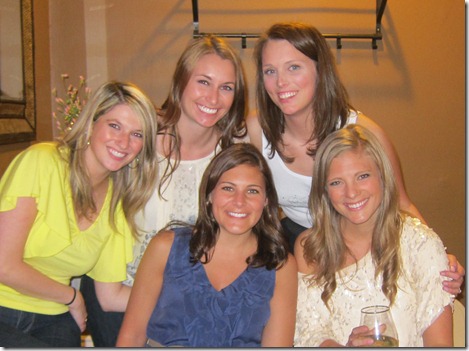 What is your skin care routine?
I wash my face with Clean & Clear morning burst shine control facial cleanser in the shower every morning and use Clean & Clear oil-free dual action moisturizer right afterward, otherwise my skin is tiiiiight.
What kind of makeup do you wear?
Click here for my makeup routine.
I have the thinnest hair in the world and have always considered myself hair-styling inept. I'm assuming this question refers to the times I curl my hair (since straightening is a pretty self-explanatory process), so I'll point you to this video tutorial I created on how to curl your hair with a straightener.
Do you color your hair or is it natural? How do you get it cut and how often?
It is natural. I have never colored my hair and I get it cut at Great Clips when I get their $5.99 coupon in the mail. My hair cut is hard to mess up because I just get it trimmed every time! I ask them to cut about a half of an inch off every two months, and angle it a bit in the front.
What shampoo/conditioner do you use?
I use Marc Anthony Instantly Thick shampoo and conditioner and I buy it at Ulta. I have the thinnest hair in the world and it's the only shampoo and conditioner I've used that actually seems to make it a little thicker.
What sorority were you in?
I was a Kappa Delta at the University of Central Florida.
How many hours of sleep do you get each night? When do you go to bed and wakeup? Where do you get all of your energy?
I typically wake up at 5 a.m. on weekdays and am in bed by 10 p.m. I work out first thing in the morning and eat constantly throughout the day (six mini-meals) which I think really helps keep me feeling energetic throughout the day. Click here to see my morning routine.