With the help of some proper fuel…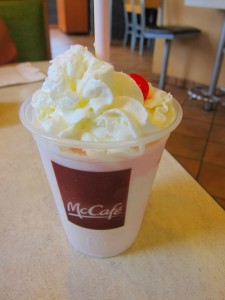 …we made it to Jekyll Island, Georgia a little after 2 p.m.
Ryan and I have been looking forward to this trip for months! We were actually supposed to visit Jekyll Island in the beginning of May but had to reschedule, so it's been a long-awaited vacation! We set up this trip after I emailed back and forth with Alexa, a fantastic account executive who sent me a press release about Jekyll Island. When I responded to her saying that Ryan and I thought the island seemed like a neat place for a couple's getaway, she graciously offered to host us for the weekend. We were absolutely thrilled!
The first activity we had planned during our trip was a visit to the Georgia Sea Turtle Center.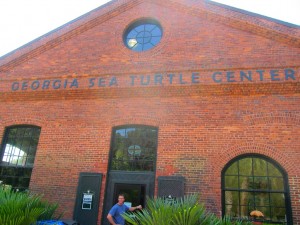 Hi Ryan!
We had a behind the scenes tour planned for 3 p.m. and as big-time animal lovers, Ryan and I were pumped to learn more about sea turtles.
The tour was led by Aislinn who took us behind the gates and into the turtle rehabilitation treatment area typically reserved for staff members.
It was so neat to see the little and BIG guys up close.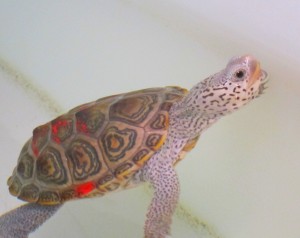 That's a diamondback terrapin! (Any University of Maryland fans out there?)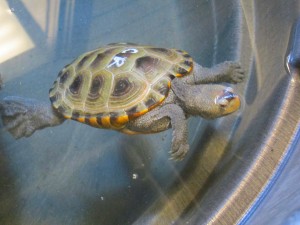 The most interesting thing I learned during the tour was that when a female sea turtle lays her eggs, the sex of the baby inside the egg is not yet determined. The temperature at which the egg incubates determines the sex of the turtle. At the Georgia Sea Turtle Center, when a female lays eggs, they incubate them at a warmer temperature that guarantees that the hatchling will be a female to help continue to increase the population of these endangered reptiles. I'm going to incubate myself at 105 degrees when I get pregnant so I can guarantee a girl. Just kidding, obviously. I gotta give Ryan a fair shot at a boy.
We also saw a veterinary technician treat Randy, a green sea turtle in need of care due to a boat strike.
I was surprised at how docile Randy was during treatment. His big eyes dug right into my heart.
Once the tour was over, Ryan and I took our time exploring the rest of the center before walking around the island a bit.
We just arrived back at our hotel room and are planning to unpack before heading back out. On the agenda for tonight is dinner (seafood!!!) and a nighttime walk on the beach with the Georgia Sea Turtle Center to see if we can stumble upon a female laying eggs. Our fingers are crossed!