A few days ago, when I shared my recipe for gluten free and Paleo friendly
almond butter pancakes
, I received feedback from a handful of you who were hoping to see more gluten free recipes on the blog in the future.
Ask and you shall receive!
While I am not personally gluten free, I am always up for experimenting in the kitchen in an effort to make yummy and healthy goodies.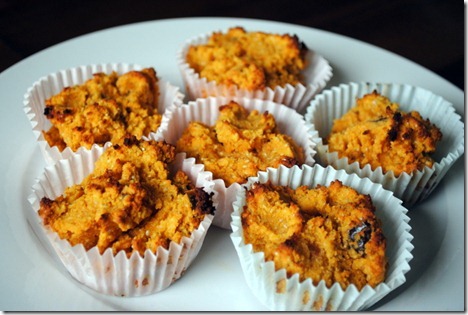 Ryan and I were both craving something sweet yet healthy after dinner this evening and I got to work in the kitchen, crossing my fingers that my latest attempt at gluten free muffins would succeed. (I had a batch of gluten free zucchini muffins totally bomb last weekend. Bleh!)
Fortunately these muffins turned out juuuust fine. Check out how moist and dense the inside of the muffins look!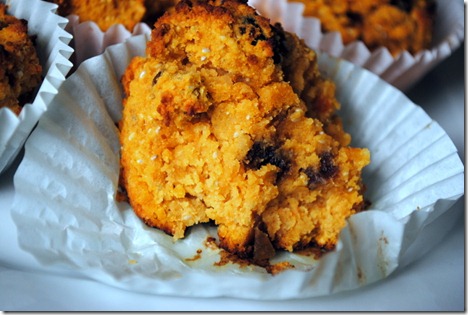 Yum!
Gluten Free Honey Pumpkin Muffins
Makes eight muffins
Ingredients:
1 cup almond flour
1/4 cup coconut flour
3 tablespoons honey
5 dates, chopped (approximately 1/4 cup)
1 teaspoon baking soda
2 tablespoons chia seeds
2 eggs
1/2 cup pumpkin
1/4 cup canola oil
Directions:
Preheat oven to 350 degrees and line muffin tin with liners
Combine all ingredients in a large bowl and stir until everything is completely mixed
Portion out muffin batter into muffin tins (The batter will be very thick and almost moldable)
Bake 25 minutes, or until tops of muffins begin to brown
Allow to cool and enjoy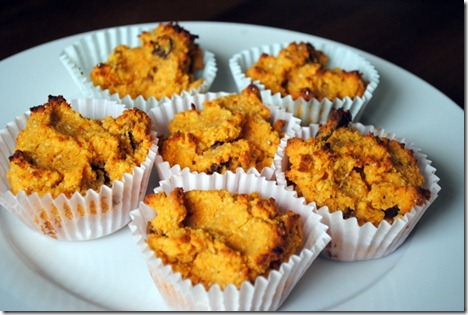 They tasted great hot out of the oven and I cannot wait to enjoy one again tomorrow topped with a smear of almond butter. Woo!
I cannot sign off this evening without making sure you're aware that these muffins are not your typical fluffy muffins and are quite dense. Both Ryan and I loved them, but if you're looking for basic muffins that are not gluten free and are nice and fluffy, you might be more interested in my Oatmeal Banana Flax Muffins or Pumpkin Oatmeal Muffins.
Enjoy!