Hello! How are you guys doing!? I hope you all had a great weekend! Our weekend included plenty of fun with friends (an impromptu Kentucky Derby party + Cinco de Mayo baby sprinkle) as well as a day trip to Stone Mountain on Sunday. Since our hiking adventures took up most of our day yesterday, I didn't have the chance to wrap up my weekend recap like I usually do so I'm flip-flopping Monday and Tuesday's posts this week since I pre-wrote Tuesday's post on Friday. (As I'm typing this up, I realize this is all probably unnecessary information to share… Oops.)
Anyway, I think this actually may work out for the better since the post I had planned for Tuesday was a Mother's Day Gift Guide and sharing it a little earlier is hopefully a little more helpful for those of you who still have some brainstorming to do!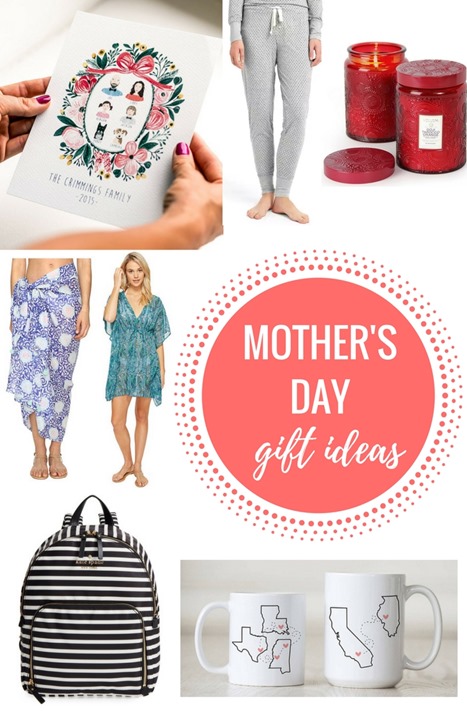 Ever since the early days of the blog, I've loved sharing gift guides with you guys and really hope you enjoy this roundup of ideas. Hopefully something special jumps out at you for you to give to your mom or a wonderful mother-figure in your life this Sunday!
Mother's Day Gift Guide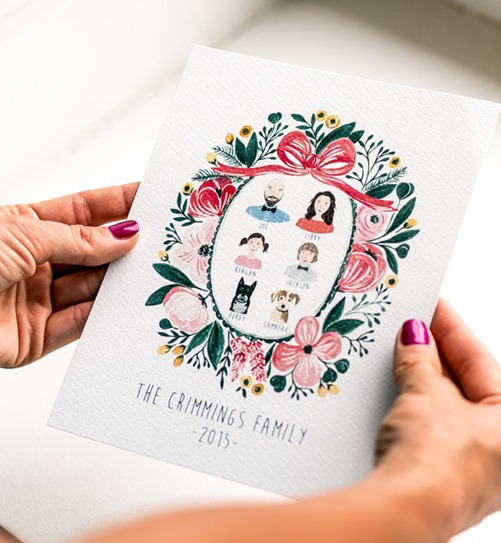 Maybe it's the sentimental sap in me, but I just LOVE the idea of a customized painted family portrait. I think a small personalized family portrait (pets included!) would be such a special gift that many moms out there might love to hang up in the bathroom at home or frame to display at the office.
Another idea: My dad gave my mom a painting of the homes they've lived in together in their almost 40-years of marriage which I thought was such a sweet gift!
Favorites: Custom Illustrated Portrait // Custom Family Portrait // Custom House Portrait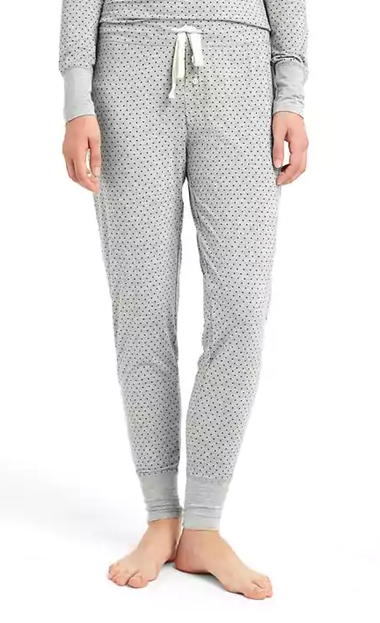 If you're on the fence with what to buy your mom or a mother-figure in your life this year, I cannot recommend GAP's Pure Body Joggers enough. I bought myself a pair of red and white striped joggers on a whim on Black Friday and they are, without a doubt, the most comfortable pair of pajama pants I own. The fabric is ridiculously soft and feels like comfort wrapped around your legs. The whole Pure Body line of pajamas is made with the same lightweight, silky-smooth fabric and they also have Pure Body shorts and tees/tanks and t-shirt/cami nightdresses if that style is preferred. (I actually bought my mom the Pure Body shorts + t-shirt combination for Christmas and she loved them!)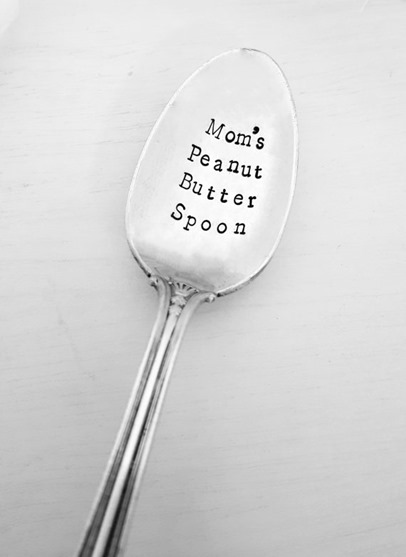 I got this idea from Chase (aka Ryan who gave me this gift for my birthday "from Chase")! I love the Best Mom Ever spoon Ryan ordered for me off Etsy and it makes me smile whenever I use it. Etsy is the best resource for personalized gifts and there are tons of unique spoons so you can easily find one that suits your mom's personality or create your own! I love the spoons that say things like "Mom's Ice Cream Spoon" or "Mom's Peanut Butter Spoon" so they feel both sweet and kind of funny, too!
Favorites: Best Mom Ever // Love You Mom // Mom's Peanut Butter Spoon // Mom's Ice Cream Spoon
Breezy and Comfy Cover Up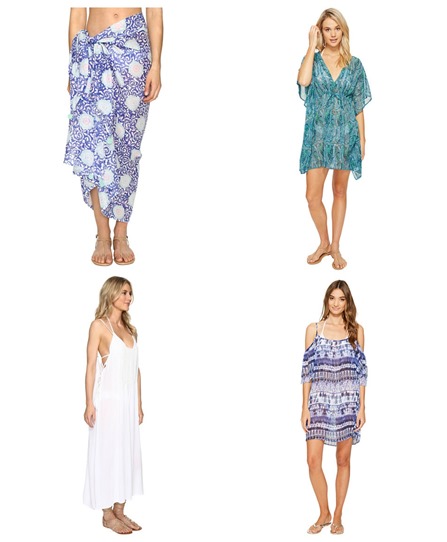 I'd venture a guess and say that shopping for a swimsuit for mom would be pretty challenging and/or awkward (I mean shopping for a bathing suit for myself is hard enough!) but cover ups are another story! With warmer temperatures here for the next few months, I think many moms out there would love a beautiful cover up to wear to and from trips to the pool or beach! I know I still often default to grabbing an old pair of shorts and a t-shirt to wear over my bikini when we go out on the boat but there's no denying how much cuter a breezy and comfy cover up looks over a bathing suit.
Favorites: Sarong Cover Up // Cold Shoulder Cover Up (The cover up I wore all weekend in the Outer Banks!) // Tropical Brilliant Blue Cover Up // O'Neill Lulu Maxi Cover Up (I have this $38 cover up in white and LOVE it!)
Plan an Experience Together
Experience gifts are always my favorite to give and receive because they're often the most memorable and allow you to truly enjoy spending time with the person you're celebrating. In the past, my sister and I have teamed up to take my mom to an afternoon tea on Mother's Day and treated her to a day at a local winery. More ideas for experience-based gifts: Concert tickets or tickets to a local show/musical, tickets to a sporting event for a big-time sports fan, a relaxing spa day, reservations for a special dinner or brunch at a place you know they love or would love to try, cooking class (Sur la Table has a bunch!), pottery painting or one of those fun canvas painting classes, etc.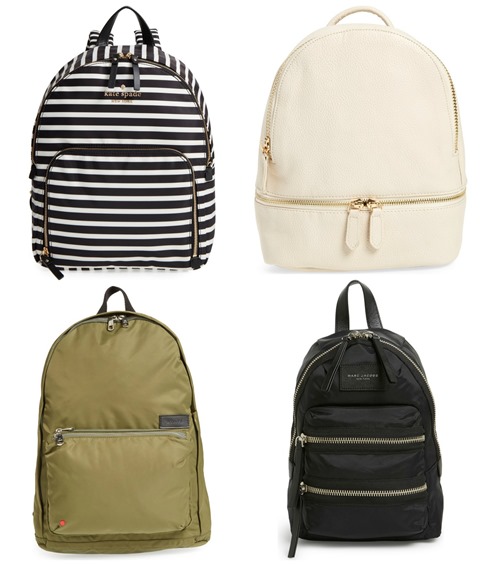 If you happen to be giving a gift to a mom who is always on the go with her kids these days, I think a backpack would make a wonderful gift! When Chase was a baby, I swore by my Ju-Ju-Be Legacy Diaper Bag Backpack (that thing is the JAM!) but now that Chase is a bit older, I don't feel like I need quite as much stuff with me at all times. I now find myself reaching for a smaller-sized backpack for play dates, errands and activities.
Favorites: Marc Jacobs Mini Nylon Backpack (I received this as a gift and it's the best! It's small and lightweight but still big enough to hold diapers and wipes, my wallet, lip balm, snacks, etc.) // Faux Leather Mini Backpack // Kate Spade Watson Lane Backpack (Gorgeous stripes!) // State Bags Lorimer Backpack (So many colors! I love the olive green.)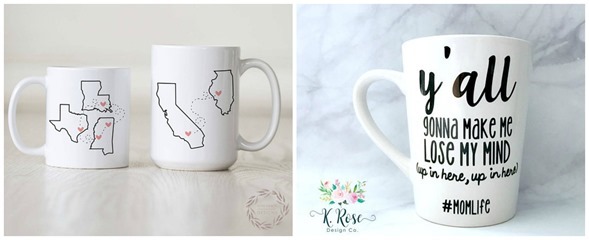 I'm not afraid to admit that I have a bit of a mug addiction. I already have plenty of mugs and yet I cannot seem to stop browsing for more when I find myself at Home Goods! There are so many fun (and funny!) motherhood (and grandmotherhood) related mugs out there and Mother's Day is the perfect excuse to pick out an extra cute one!
I love the mugs that feel a little personal (like the heart between two states mug for those who don't live near their moms) or funny (love the Mommin' Ain't Easy mug).
Favorites: Heart Between Two States Mug // Mommin' Ain't Easy Mug // Mama Bear Mug // Y'all Gonna Make Me Lose My Mind (Up In Here, Up In Here) Mug (<— Shout out to late '90s jams!)
Additional Ideas
Candle + Massage Gift Certificate (Still obsessed with Voluspa's Goji Tarocco Orange candle!)
Ice Cream Delivery (Okay, am I the only one who thinks this would be an amazing gift? I got the idea when I saw that Leopold's in Savannah offers delivery!)
Book + Unique Bookmark
Birchbox (Love this collection of beauty products. It's a monthly delivery that's pretty affordable from a subscription box standpoint! $10/month!)
New Nail Polish + Gift Card for a Mani/Pedi
Shop This Gift Guide
***
Disclaimer: None of the items featured in this gift guide are sponsored and companies did not pay to have a certain product included. The items featured are simply items I think would make fabulous gifts. Some affiliate links are included and, as always, I truly appreciate your support.