On my morning post, when I wrote about my food rut,
Brittany
commented, saying that whenever she finds herself in a food rut, she looks back on old blog posts that she published for favorite recipes that may have fallen to the wayside. Smart lil' lady!
I started clicking around my blog and quickly stumbled upon my butternut squash and wheat berry mock risotto. I loved that recipe! It was a huge hit in our house with both me and Ryan and I figured I could play around with different vegetables and come up with another wheat berry mock risotto dish for dinner this evening.
Wheat berries are much chewier than rice and I love the texture they add to a creamy dish like this mock risotto.
I decided to use an onion, mushrooms and spinach to add flavor and nutritional value to the meal and it turned out fantastic!
Mushroom and Spinach Wheat Berry Mock Risotto
Serves: 3
Ingredients
1 tablespoon olive oil
1 large sweet onion, chopped
1 1/4 cups Portobello mushrooms, chopped (about 4 ounces)
1 cup uncooked wheat berries
1 (14-ounce) can reduced sodium chicken or vegetable broth
8 cups fresh spinach
1/4 cup grated parmesan cheese
2 links cooked chicken apple sausage, sliced (optional)
Directions:
Heat olive oil in a large pot over medium heat
Add onion; cook 10 minutes or until tender and golden, stirring occasionally
Add mushrooms; cook 3 minutes or until tender, stirring occasionally
Add wheat berries; cook 1 minute, stirring constantly
Add broth; bring to a boil
Cover, reduce heat, and simmer for 20 minutes, stirring occasionally
Uncover, add parmesan cheese and chicken sausage, stir
Add spinach, stir until spinach wilts and cook for an additional 3 minutes or until liquid is absorbed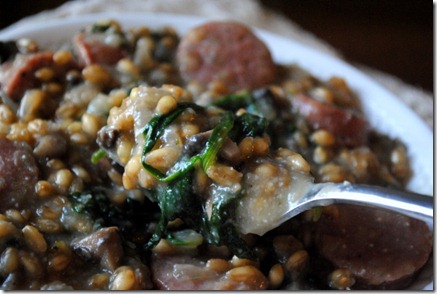 This dish can easily be made vegetarian by using vegetable broth and omitting the chicken sausage. Such a yummy meal!
Other risotto-inspired recipes that have popped up on PBF:
After dinner, Ryan and I took Sadie on a 30-minute walk around the neighborhood before coming home to watch Jeopardy. I miss the college tournament on Jeopardy! I was killin' it when the college kids were on last week and was humbled yet again this evening when the questions returned to their normal level of difficulty. C'mon, Alex!
Hoping to cram in some reading before The Bachelor starts. Home town dates tonight!