Last Friday morning, before the sun was up, I headed off to Orangetheory to kick off my day the sweaty way. I LOVE Orangetheory but without the option of on-site childcare, it's a workout I am only able to integrate into my routine on occasion. Orangetheory workouts are usually a weekend treat for me but sometimes the desire to change up my weekday workout routine hits and I'll sign up for an early morning class before Ryan has to head off to work.
The workout I completed last week was, without a doubt, the sweatiest OTF workout I've done to date thanks to lots of time on the treadmill. As I was leaving Orangetheory, I realized that the workout was actually a pretty easy one to replicate at the gym or at home if you have access to a treadmill or can run outside. (And since you guys requested more treadmill workout posts from me this year, I hope this one will be right up your alley!) The exercises performed on the weight room floor were bodyweight exercises so it's also a great travel workout to keep in your back pocket.
Orangetheory At Home Workout
Here's a breakdown of Friday's workout, modified slightly to make the workout easier to follow at home: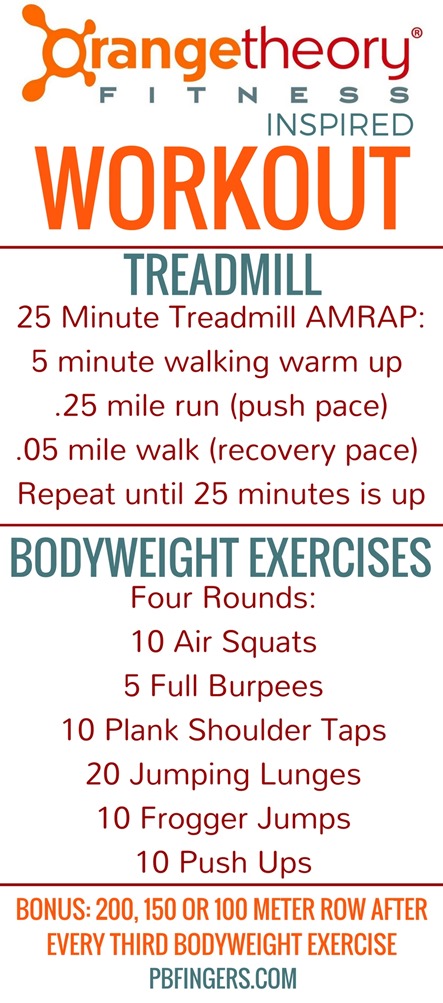 To begin the workout, I started on the treadmill and spent 25 minutes pushing myself through inclines. We were encouraged to run at our "push pace" for .25 miles and then recover with a .05 mile walk before repeating the sequence for 25 minutes. (For me, this looked like running between 6.5 – 7.5 on the treadmill and walking at 4.0 during the recovery.)
In the past, when I've put myself through treadmill interval workouts, I usually focus on time rather than distance, so I enjoyed changing things up and focusing on cranking out .25 miles at a challenging pace knowing I had a brief walking break waiting for me.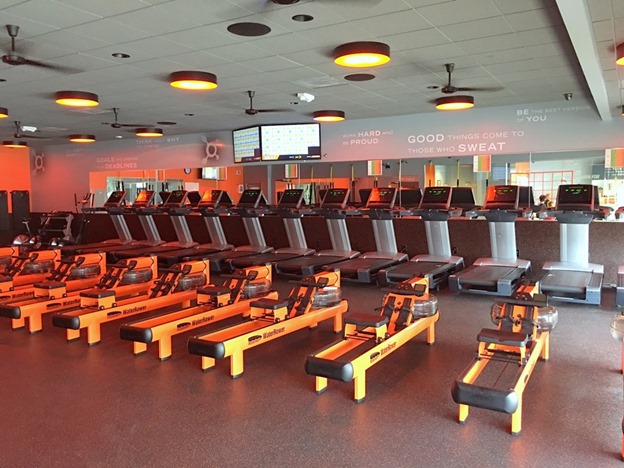 Note: To move the treadmill portion of the workout outside, simply run at a push pace for 2.5 minutes and then walk for one minute to recover. Repeat for 25 minutes.
The bodyweight exercises that followed were my favorite part of the workout which is no surprise since it reminded me a lot of my beloved circuit-style boot camp workouts. The best!
Bonus Rowing Challenge
Though I omitted it from the above workout for the sake of making this workout more at home workout friendly, if you wish to include rowing in your workout – an OTF staple – here's what the rowing portion of last Friday's workout looked like:
Once the treadmill portion of the workout was done, we headed to the weight room floor to complete the total body exercises you see above. We completed bursts of 200, 150 and 100-meter rows after we were done completing three exercises in the series. For example, after squats, burpees and plank shoulder taps, we rowed for 200 meters. Then, after jumping lunges, frogger jumps and push ups, we complete 150 meters of rowing. Begin at the top again with squats, burpees and shoulder taps but this time complete 100 meters on the rowing machine. Keep cycling through 200, 150 and 100 meter rows until all four rounds of the exercises are complete.
***
And a quick note in case you haven't tried Orangetheory: Orangetheory workouts are sweaty and intense and FUN. While the workout I've detailed above is very close to the OTF workout I did last Friday, it's hard to replicate the energy, excitement and motivation you feel during an OTF workout outside of the studio. In case trying an Orangetheory class is on your radar, you may be interested in the following post: What To Expect At Orangetheory (Also, from what I've seen, your first class is free at many OTF studios!)