My third trimester is here! Woop! I've heard that this trimester somehow seems to pass by the slowest
and
the quickest of all the trimesters. Ha!
Below you will find a recap of my 28th week of pregnancy…
Past updates:
Baby Updates
Baby weighs about 2 1/4 pounds and is about the size of an eggplant!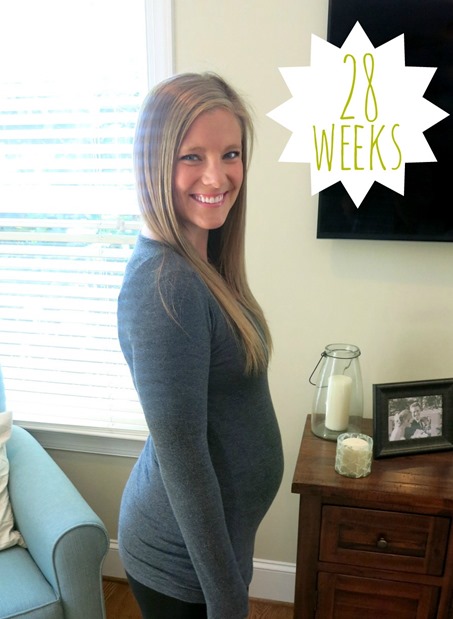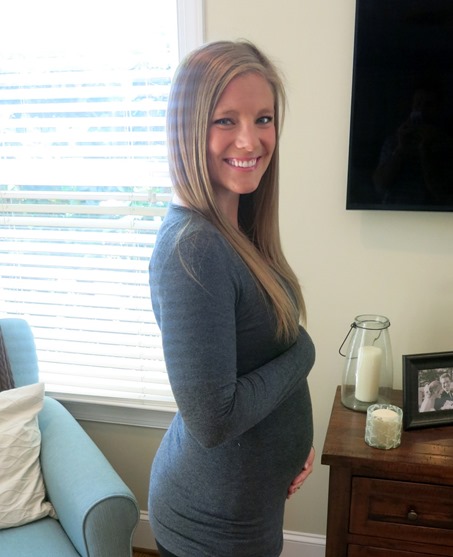 Everyone around me agrees: There's no denying baby is getting bigger and bigger every week! I feel like week-to-week belly growth is much more noticeable over the course of these past two to three weeks than it has been all pregnancy so far.
Check out these belly changes…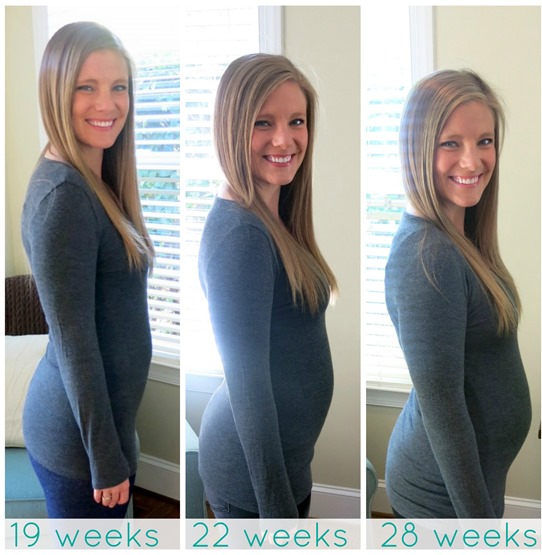 When I think about the fact that I may/am likely to still be pregnant 70+ days from now, I cannot even wrap my head around how big my belly is going to be at the end of this journey. I also cannot seem to stop touching/rubbing my belly these days. I'm not sure what that's all about, but it's oddly soothing to me!
Weight Gained
About 19 pounds!
Workouts
I managed to stay pretty active this week which continues to make me feel good. I truly do feel best during a workout which is a great feeling and I love the way my energy levels seem to stay up following workout as well. Workouts this week included spinning, BodyPump, Core Barre, Pure Barre and a total body strength workout.
Symptoms
If I find myself getting too hot (which happens much more easily these days), I feel abnormally cranky. Like really cranky. This tends to only really happen when Ryan and I are out on our evening walk with Sadie. With temperatures climbing into the low 90s last week, I would start sweating like crazy and just feel miserable, so we threw in the towel on some of our usual walks or just waited to walk with Sadie until closer to 8 p.m. when it wasn't so hot outside.
I'm also still definitely noticing my belly more and more these days and find myself frequently placing a hand underneath it for some support when I walk (especially up or downhill). Bending over is very uncomfortable right now and I'm transitioning to squatting when I need to pick something up and not bending over at the waist since the belly fights back!
I experienced a few foot cramps again this week, but nothing like two weeks ago. They're still never fun, but they didn't occur in the middle of the night and wake me up, so that's a plus!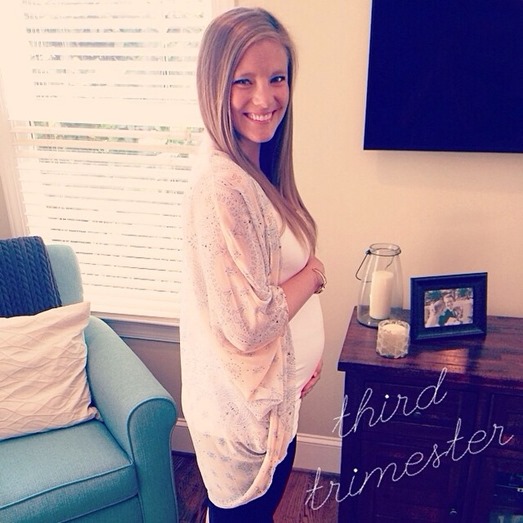 Food Aversions
Similar to last week, nothing is sounding too horrific to me right now. While there are still foods I choose not to eat, nothing is gag-inducing anymore.
Food Cravings
Fresh fruit (Watermelon is still #1!)
Sandwiches
Ice cream
Nuts
Sleep
Sleep went pretty well this week! A winning combination: Reading Me Before You to the point I could no longer keep my eyes open + The Snoogle!
Looking Forward To…
A weekend getaway to Canyon Ranch! I cannot wait!!! Ryan and I have lots of fun planned during our stay, including pool time, massages, fitness classes and plenty of relaxation. We'll be there Saturday afternoon through Tuesday morning and I am thrilled! This trip was initially on our calendar for June, but we were able to bump it up a bit which made me happy since I'm feeling fairly energetic and not too uncomfortable just yet. The weekend cannot come soon enough!
Any Baby/Pregnancy-Related Purchases?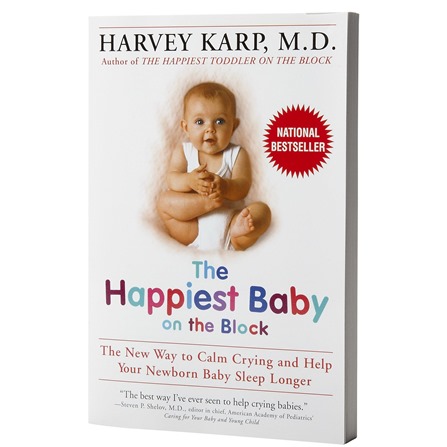 This book came highly recommended to me by a number of mamas out there who swear it made the biggest difference for them. Hoping it dive into it soon!
My latest box of adorable maternity clothes from Stitch Fix arrived late last week and I ended up keeping three of the five items, including a pair of skinny jeans, chambray jacket and a cute dress! (I sent back a crossbody purse and a cowl neck top that just wasn't my style.)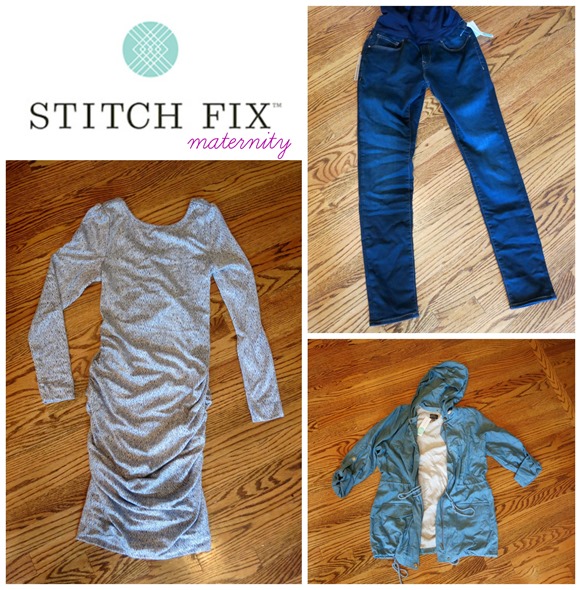 Tart Talyn Maternity Dress (similar, similar, similar): This dress has a tighter fit that definitely accentuates the bump which is fun! The material is thick (almost sweatshirt-like) so despite the body-clinging fit, I still feel like it offers a decent amount of coverage. Plus, dresses that hit right below my knee are my favorite!
Mavi Frieda Maternity Jean (similar): I kept these jeans because they were comfortable and filled the void of a nicer/dressier pair of skinny jeans. The two pairs of maternity jeans I already own are a slouchy boyfriend style (this pair but darker denim) and a gray jean with funky zippers, so these were a great find!
Market & Spruce Analisse Chambray Jacket (similar, similar, similar): I kept this jacket because I wear the same brand's olive green anorak jacket that I received in a previous fix all the time and love the lightweight, casual look.
Belly Button In Or Out?
Flat!
Feeling…
After struggling a bit with just feeling thick all over and a little self-conscious about not really looking pregnant there for a while, I feel like there's no denying I have a baby in my belly these days and I'm loving it! It's almost easier to dress a bigger belly than one in the awkward in-between phase and I'm wearing some of my old super-stretchy/extra long workout tops again to highlight the bump which is fun! I'm truly enjoying being pregnant right now (I've been told to ride this high as long as possible because things will likely get rather uncomfortable toward the end of my third trimester) and I feel grateful my energy levels feel relatively normal.
I'm also feeling relieved and thankful because the results from my gestational diabetes screening came back and I passed. Phew!!
Any Movement?
Yes! Movement has picked up a bit for sure! On Thursday of this week, our little one was particularly active. I loved it. He was dancin' around like crazy and I felt some of the biggest movements I've felt so far in my pregnancy. Pretty cool!