Last week we officially hit 30 weeks! I cannot believe it! I remember when I'd hear women say they were 30 weeks pregnant in the past and I'd think to myself, "Oh my gosh, you are going to have your baby
tomorrow
!" Ha! Now that I'm the one who is 30 weeks along, I feel like 10 weeks (give or take) seems like an awfully long time until our little one is supposed to arrive. But with a busy June on the agenda, I'm sure time will fly!
And now here's a little peek into my 30th week of pregnancy…
Note: All previous weekly updates and pregnancy/baby-related blog posts may be found on the Pregnancy/Baby page located at the top of this blog.
Baby Updates
Baby is 15.7 inches long and weighs almost 3 pounds… about the size of a cabbage!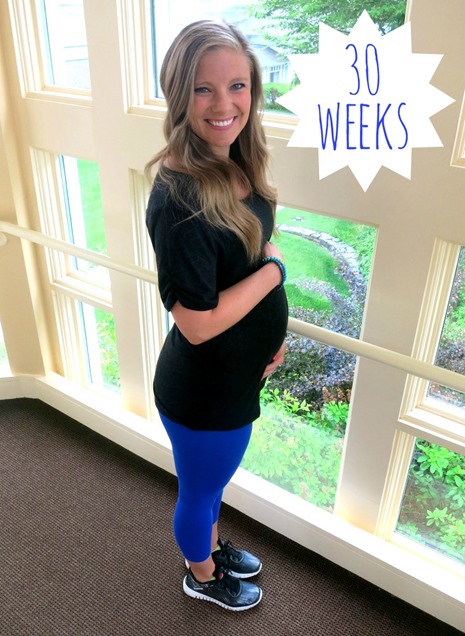 Weight Gained
According to the scale at my 30-week prenatal appointment, my weight gain is holding steady around 18.5 pounds. I was actually a little worried because this is the first time I haven't gained weight between prenatal appointments, but my doctor said everything looks right on track for an overall gain of the recommended 25 to 35 pounds and many women notice weight gain slow down a bit in the third trimester when compared to the second trimester. Plus, I feel like I am still eating all the time, so baby must be pretty darn well fed at this point!
Workouts
Thanks to our incredible BabyMoon at Canyon Ranch over the weekend, my workouts varied a little bit! I still managed to incorporate a few spinning classes into my routine, as well as two BodyPump classes and a Pure Barre class.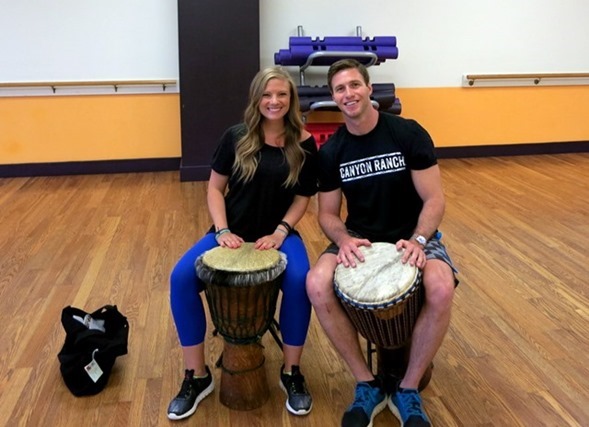 Symptoms
The feeling of "fullness" in my belly I mentioned last week continued this week. The feeling is still unrelated to how much I've had to eat and sometimes my whole belly will just feel bigger, tighter and more crowded. I told Ryan I feel like this may be when our little guy is pressed up against the outside of my stomach or something.
And I'm still feeling hot. All the time. Cool showers and swimming in the lake make me ridiculously happy right now.
I also joke that my belly has become a landing board for crumbs, spills and extra food lately. Apparently I'm quite a messy eater because I feel like I'm dripping and spilling stuff on my stomach constantly.
Oh and I'm still peeing every two seconds, but that's nothing new.
Food Aversions
Similar to the past few weeks, nothing is sounding too horrific to me right now. While there are still foods I choose not to eat, nothing is gag-inducing anymore.
I have noticed a decrease in my desire for coffee. In the past, coffee almost always sounded fabulous but lately I feel quite indifferent toward it. I still had some decaf coffee a few times this week, but it was almost more out of habit than a real desire. Strange!
Food Cravings
Fresh fruit (I told Ryan I am pretty convinced I could live on watermelon alone right now…)
Big salads
Ice cream
Pasta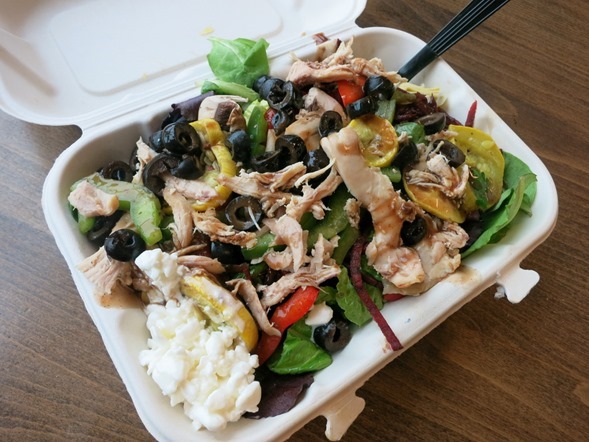 Sleep
I continue to feel like I cannot drift into a deep sleep anymore and always feel half-awake at night. I'm up a lot in the night to go to the bathroom as well. I'm surprised I'm not feeling more exhausted than I am at the end of the day, but I'm definitely ready for bed before 10 p.m. most nights.
Looking Forward To…
Another baby shower this weekend! My mom and sister are throwing me a baby shower here in Charlotte for friends and we're having a whole gang of people (8!) coming in town to stay with us at our house and I cannot wait!! After a baby shower brunch on Saturday, we're planning to spend the day on the lake and I am really looking forward to some quality time with my mom, sister and girlfriends.
Any Baby/Pregnancy-Related Purchases?
After having some sizing issues with my last ASOS maternity dress purchases, I ordered a backup baby shower dress from the site for my family baby shower and crossed my fingers that it would arrive in time. It thankfully did, though I didn't have time to get it altered (it was still a little big around the chest/upper waist), but then again I'm not sure I would've really wanted to put more money into a maternity dress, so maybe that's a good thing? It was a very comfortable dress, so that's also a plus!
Belly Button In Or Out?
Flat… but starting to protrude a teeny bit!
Feeling…
I am feeling more and more ready to have our baby! Ever since I started looking and feeling more pregnant, I've felt increasingly ready for the next stage of this journey. I keep finding myself thinking about what life is going to be like once our baby boy is here and getting so, so excited to meet the newest member of our family.
I am also occasionally hit with a feeling that I know absolutely nothing about babies and what to do after I give birth. (I mean I just learned that you feel contractions all over your belly, not just in the lower portion of your belly which is what I always imagined. I have SO much to learn and am anxiously awaiting the childbirth prep class we registered for next month.) I just try to remind myself that women have been doing this forever and somehow it all seems to work out. I feel so grateful for a wonderful network of supportive women in my life – and for you guys since your advice and insight has truly been such a blessing to me during my pregnancy. I appreciate all the time you take to share your personal journeys with pregnancy and motherhood with me. There's something so refreshing about connecting with other real women who have been through all of this before as opposed to just reading what I should expect to experience in pregnancy books.
Any Movement?
Yes! Our little one is moving more… mostly on the left side of my belly! I am feeling him dance around constantly and I just love it!