Hello, hello! Right now I'm about to head out for my 36-week prenatal appointment and I'm hoping it will be a smooth one and a bit less eventful than my
34-week appointment
two weeks ago. My fingers are crossed for a healthy heartbeat and a healthy baby!
But for now, here's a peek into week 35 of my pregnancy!
All previous weekly updates and pregnancy/baby-related blog posts may be found on the Pregnancy/Baby page located at the top of this blog.
Baby Updates
Baby is more than 18 inches long and weighs approximately 5 1/4 pounds… About the size of a honeydew melon!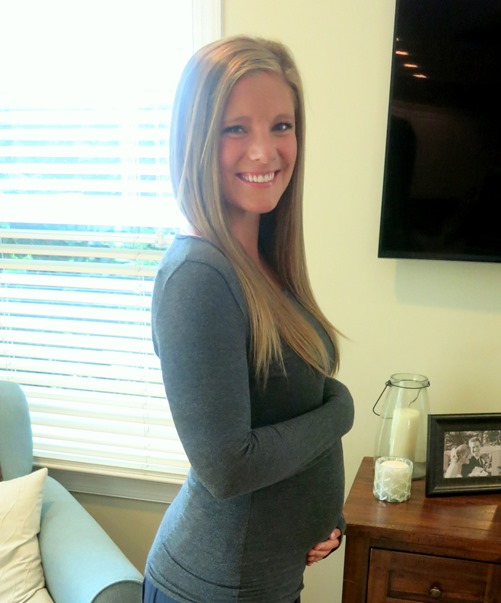 Weight Gained
Didn't weigh myself, but I'd guess around 23-24 pounds?
Workouts
Workouts continued to be lighter this week. My sacroiliac pain limits most cardio activities (walking included which is the biggest bummer for me), but I was able to comfortably bike for 30 – 40 minutes most days this week. I paired biking with alternate days of upper and lower body strength training – sticking only with exercises that didn't exacerbate pain and felt good. My time in the gym is basically the only time I'm active during the day since walking still feels crappy, so I really look forward to the hour or so I spend moving my body and just doing something.
Symptoms
Unfortunately sacroiliac pain continued to be my most intense and irritating pregnancy symptom, but I noticed the pain start to slightly decrease toward the end of the week which made me SO happy and gave me a lot of hope for improvement before it's time to actually deliver our baby. (Part of me was beginning to think I'd be in total misery up until the time I gave birth, so this little glimmer of hope is wonderful!) The pain seems to be migrating away from my left glute and up into the center of my lower back a bit which my physical therapist said is a good thing, since it's taking some of the concentrated pressure off my nerve. The thought of walking even a mile is still out of the question for me right now, but at least I can move about our house without a stabbing pain hitting me all the time! My fingers are crossed for continued improvement.
I am also experiencing light nausea most mornings right now which is not so fun. I thought I was done with that in my second trimester!? I didn't throw up at all this week (eating constantly really helps!), but there were a few days when I just couldn't shake the nausea for a few hours in the morning.
I also feel breathless much more easily – walking up the stairs is intense and bending over almost always takes my breath away for a second or two. When I tried painting my toe nails this week, I just started to laugh because it was so awkward and the end result was pretty horrific. Polish everywhere! Perhaps this means I have a good excuse to treat myself to a pedicure soon?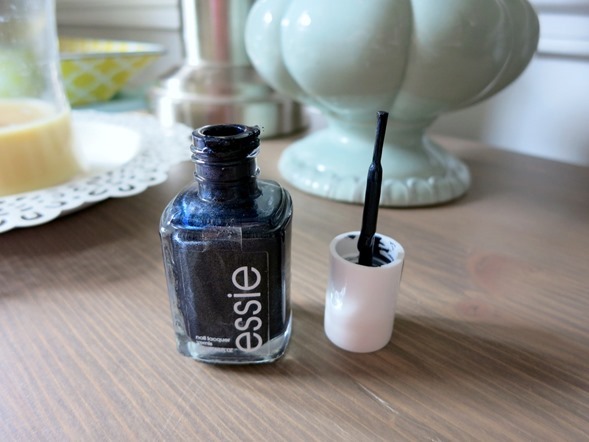 And I'm still sweating a lot and peeing all the time, but that's nothing new! We've had record highs in Charlotte this summer (temperatures eclipsing 100 degrees!) and I'm halfway convinced that the intense heat is only happening because I'm pregnant.
Food Aversions
Nothing!
Food Cravings
Give me allllll the fruit and fruit-flavored things! Loving peaches, plums, watermelon and grapes. I also cannot get enough of those Yasso strawberry Greek yogurt bars and ice cream!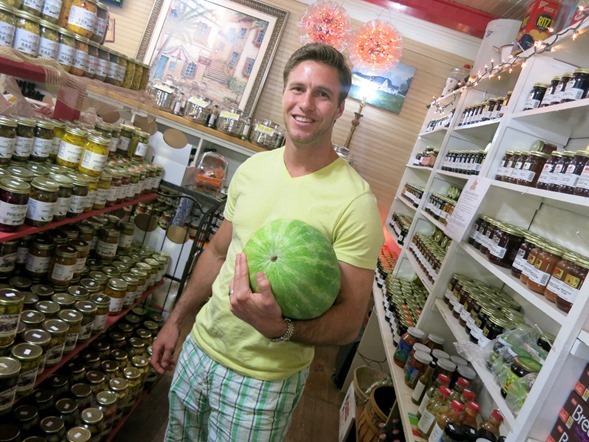 (Above pic: 35 weeks, 6 days!)
Sleep
I reached a point this week where I started to dread going to bed at night because I knew I'd be up forever just tossing and turning. I'm not really tossing and turning because I'm super uncomfortable… It's more just general restlessness that I cannot get to go away. It's really, really annoying and I just feel fidgety for hours before I go to sleep and sometimes during the middle of the night when I wake up as well.
Looking Forward To…
My friend Melissa's baby shower next week and my 36-week prenatal appointment. After a somewhat scary 34-week appointment, I am really hoping for a more reassuring appointment next week that will make me feel a bit better about how things are progressing.
Any Baby/Pregnancy-Related Purchases?
Apparently comfy (dark-colored!) drawstring pants are a woman's best friend post-labor, so I ordered a pair for $20 from Nordstrom Rack that I'm hoping will fit well and be the perfect addition to my hospital bag.
I also took advantage of a few good sales on Zulily this week and bought a baby comb and brush set, Sage Spoonfuls baby food storage containers and a nursing sleep bra.
Belly Button In Or Out?
Out! But still not overly noticeable through clothing.
Feeling…
I'm feeling more and more ready to have our baby! Even though it's crazy to think that we're less than a month away from our due date, for some reason 30 days seems like a long time to go for me right now! I think I'm beginning to understand why women say the third trimester can feel like forever. I swear weeks were passing by in a flash for a while, but now it seems like things are slowing down and I'm getting more and more anxious to begin the next phase of this journey and have a newborn to hold in my arms.
My feelings seem to fluctuate daily from I CAN'T WAIT to have a baby to OH MY GOSH, we're having a baby (and I have to BIRTH THE BABY)… What do I dooo!?! It's a never-ending rollercoaster over here, folks.
I'm also finding myself wondering more and more about how Ryan and I will adjust to life with a newborn. I took a lot of your advice into consideration last week and Ryan and I decided having my mom here after delivery sounds like the best plan for us. Once we made that decision, I felt myself start to relax a bit which reassured me it is likely the right one. Knowing I'll have my mom's help right after birth alleviates some of my anxiety going into caring for a new baby, breastfeeding, etc.
Any Movement?
Yes! Still lots of belly rolls and larger movements! Sometimes it will feel like our baby is pressing out SO HARD on my belly and my belly will feel incredibly tight and uncomfortable, but thankfully he doesn't seem to stay in that position for long!