I feel like just yesterday I was entering my third trimester and now here we are, only a couple of weeks away from my due date. Time is somehow simultaneously flying by and crawling (depending on the day!) but one thing is for sure: We cannot wait to meet our little boy
soon
.
Here is a peek into last week's 37 week pregnancy recap. It's crazy for me not to know just how many more of these I'll be writing! From what I've read, the majority of first-time moms tend to go over 40 weeks, but you truly never know. We shall see!!
All previous weekly updates and pregnancy/baby-related blog posts may be found on the Pregnancy/Baby page located at the top of this blog.
Baby Updates
Baby weighs 6 1/2 pounds and is 19 inches long… About the size of a cantaloupe!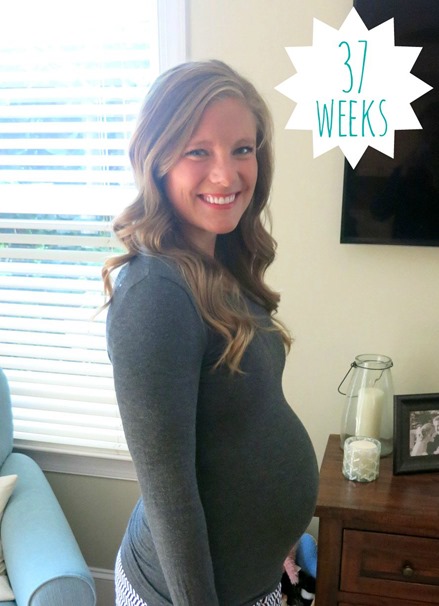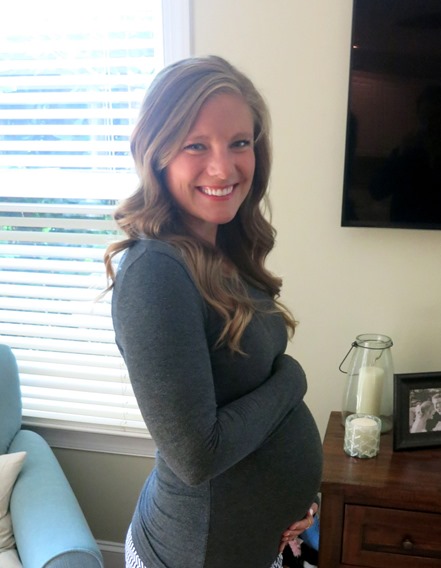 The jump from 36 weeks to 37 weeks seemed to be one of the biggest belly growth spurts for me! I've been consistently measuring several weeks behind (at one point I was measuring a full four weeks behind), but apparently something is happening in there, because now I'm only measuring one week behind. I definitely don't feel like I'm behind, that's for sure!
Weight Gained
At my 37-week appointment, I was up 25 pounds.
Workouts
Workouts this week included mostly biking and strength training but at the end of the week, I also took a Core Barre class and it felt great! I had do make my fair share of modifications during the class, but it was wonderful to find myself in a group exercise environment again. I missed feeling the burn in my muscles that a quality barre class always seems to provide.
Symptoms
Shortness of breath! I know my lungs are a bit squished right now and I am definitely feeling it. Simple things like bending over to tie my shoes or walking up one flight of stairs will leave me gasping for air. Phew! It's no joke and I'm definitely ready to feel like I can breathe normally again. There was one point last week where everything other than lying down felt really uncomfortable because I just couldn't seem to breathe normally. It was pretty awful and I think I took more deep breaths and sighed more that day than I have in my entire life so far.
In general, I also feel like I'm moving a bit slower. By the end of the day, I want nothing more than to sit on the couch and chill out with Ryan and Sadie. The thought of going out at night sounds rather unappealing to me right now and crawling into bed by 10 p.m. is my idea of a rockin' good time these days. Ha!
Food Aversions
Nothing!
Food Cravings
Fruit, as always. I couldn't get enough of my watermelon pineapple popsicles this week and ended up making three batches!
Sleep
Sleep got a little bit better this week! It's still not going well – I'm waking up constantly to pee and scratch my itchy belly (which is improving a bit, thankfully) – but it definitely is not as horrible as it was a few weeks ago. I also keep finding myself missing sleeping on my stomach more and more. I honestly had a dream about sleeping on my stomach the other day. We've reached a dark place, my friends. Ha!
Looking Forward To…
The moment our baby is placed on my chest.
Any Baby/Pregnancy-Related Purchases?
After I shared my baby registry post with you guys, I noticed a big trend in the comments section and your recommendations for some additional items inspired the following purchases:
I was able to get two of the above items (the Bubbly Bunny sound machine and rockaRoo) on sale through Zulily (perfect timing!) and bought the other two on Amazon. Thank you, as always, for helping this new mom-to-be out with your recommendations.
Belly Button In Or Out?
Out! But still not overly noticeable through clothing.
Feeling…
I've noticed that as our due date approaches, I am feeling more and more preoccupied with our baby's health. I am so grateful that everything appears to be right on track during my prenatal appointments, but there is still so much unknown out there and I hope and pray every day that our little boy will arrive healthy and safe. I daydream constantly about the moment he is placed on my chest for the first time (just thinking about it makes me incredibly emotional) and cannot even begin to imagine how that moment will feel when it actually happens.
I've also noticed that lately my emotions care a bit all over the place. In general, I feel like I'm a pretty happy and optimistic person and haven't had a ton of emotional ups and downs during pregnancy, but during this past week or so, I'll be hit with a wave of crankiness that can be hard to shake. I think I'm just getting a bit more impatient and ready to get this show on the road. Beyond feeling ready to meet our baby, I'm ready to get rid of some of the more uncomfortable feelings (shortness of breath, back pain, achiness when I walk) and feel like experiencing pregnancy is doing a great job of making me appreciate how great I felt pre-pregnancy!
Sporadically throughout the week, I also keep finding myself hit with a sense of disbelief that I'm actually about to become a mom. It's so crazy because at the core, I truly don't feel any different from the way I've always felt and yet my life is about to change so dramatically. I'm about to find myself in a totally new (permanent!) role very soon. I'm so freaking excited but also a bit scared as well. There are a lot of changes coming and it can be hard to wrap my head around everything sometimes. And then I think about the moment our baby is placed on my chest and I absolutely melt and feel more ready than I ever could have imagined. (I told you my emotions are all over the place right now!)
Any Movement?
Yes! Loving all the belly rolls! Sometimes I feel like our little boy is totally splayed out and pushing out as hard as he can on opposite sides of my stomach. It's intense!