I opened the freezer and when a giant bag of frozen strawberries stared back at me, I knew I had a winner!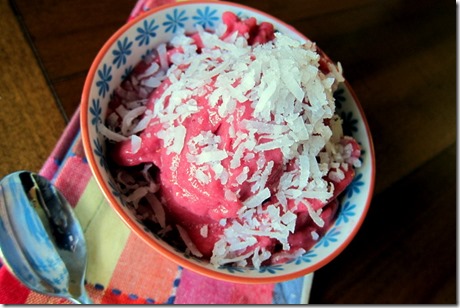 Along with the frozen strawberries, I grabbed some frozen raspberries and took out my blender, determined to make a cold and creamy dessert.
After Monday's yummy dinner that centered around coconut milk, I decided to pop open another can to use in last night's dessert to keep the delicious coconut milk momentum going.
The end result was a fantastic bowl of strawberry coconut soft serve!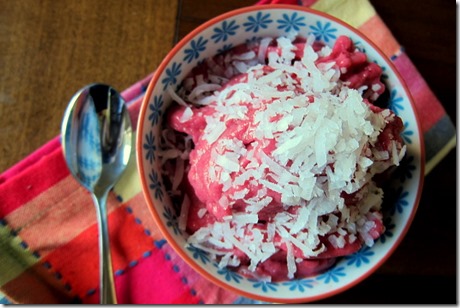 Strawberry Coconut Soft Serve
Serves one
Ingredients:
1 cup frozen strawberries
1/4 cup raspberries
1/4 cup light coconut milk (plus more, if needed, to get everything moving)
Tiny splash coconut extract
Shredded coconut for garnish
Directions:
Combine strawberries, raspberries and coconut milk in a high-powered blender or food processor. Blend until smooth and creamy (several minutes).
Add coconut extract to taste. (Note: Start with a very small amount and increase gradually. Coconut extract is very strong!)
Scoop soft serve into a bowl and garnish with shredded coconut.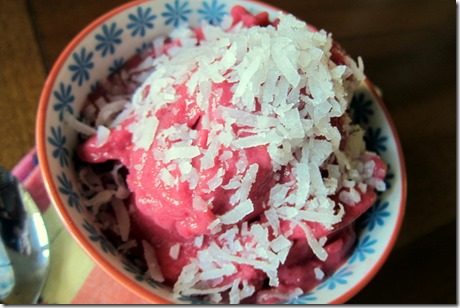 If you are a banana-lover, feel free to add half of a frozen banana (and likely a little more coconut milk) to the mix to make the soft serve even creamier! And if you'd rather not use coconut milk, you can easily use almond, soy or regular milk in its place, but, if you choose to do this, I would definitely add half of a frozen banana to keep the soft serve nice and creamy.

Enjoy!

When Ryan and I arrived home from our evening walk with Sadie, I could not shake my craving for something sweet and cold.