Fridays are officially my favorite day of the week. Yes, I know part of the day is spent at work, but I love the excitement in the air and the anticipation of two days away from the office.
Plus, my gym offers my favorite boot camp class on Friday mornings!
Before the class, Ryan and I completed 20 minute of cardio split between incline walking on the treadmill and the elliptical.
As I was refilling my water bottle at the water fountain and chatting with Ryan before boot camp, a woman at the gym pointed out our matchy-matchy attire.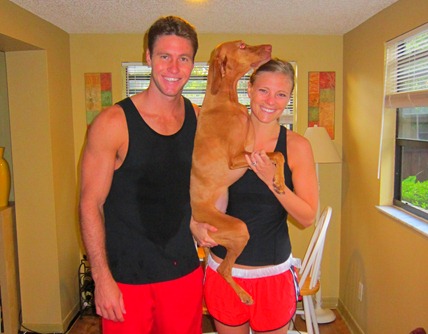 Apparently we were both feelin' the black and red combo this morning! Believe it or not, Ryan and I have found ourselves dressing in coordinated outfits several times before. Twins!
Walk + Breakfast
Once boot camp was over, my friend Merri joined me, Ryan and Sadie for a 40-minute walk around  the lake near our apartment. (She also snapped the above picture in case you were wondering.)
After our walk, it was time for breakfast!
Today I made myself a yogurt bowl that was full of goodies! (I also ate a small banana with a thick smear of peanut butter that went undocumented.)
In the mix:
Greek yogurt
Mango
Apple
Chestnuts
Honey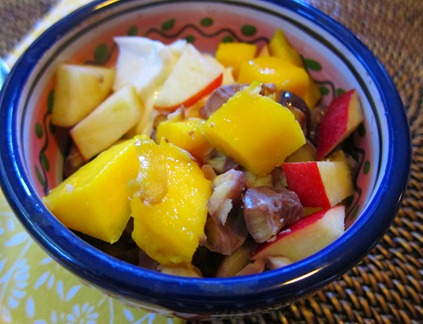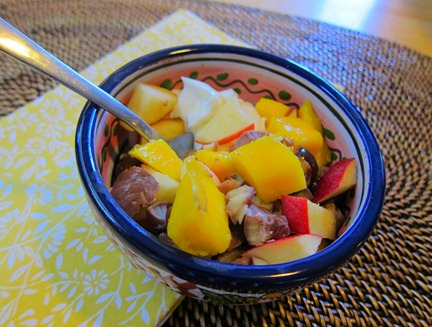 The chestnuts were such a fun addition! They added a bit of a savory flavor and a cool texture to the yogurt bowl.
I ate this up while blogging away because that's how I roll.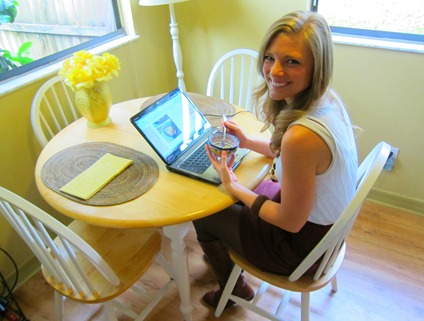 Last day of work before the weekend!!!

P.S. The Fashion page was updated this morning.