My little road trip buddy says hello!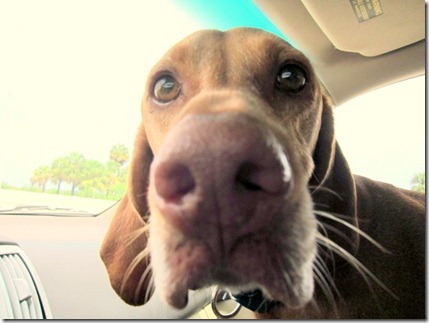 Sadie and I headed to St. Petersburg after breakfast this morning and I'm now blogging from my parents' kitchen. 
I have an appointment with a potential freelance client in Tampa tomorrow and since Ryan is golfing with a coworker after work today and won't be home until around 8 p.m., I figured I'd knock out some driving today and spend the night at my parents' house.
They live within 25 minutes of my meeting… quite a bit better than the two hours from our house in Ocala! I'd much rather drive two hours in two days than four hours in one day, especially since I really struggle to stay awake in the car for some reason. Highway hypnosis, that's for sure.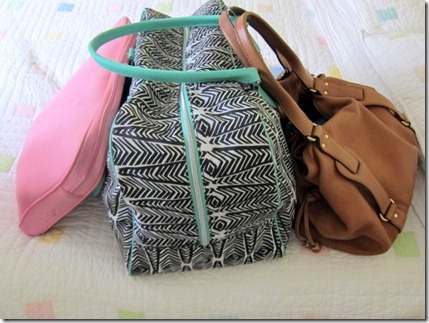 (I am loving the Sonia Kashuk teal, black and white bag that I got at the Fitness Magazine Meet & Tweet event last month! It's the perfect size for a quick overnight trip. For those who asked, you may find the bag at Target, though it looks like it's currently sold out online.)
Tas-T-O's
On the way home from the gym this morning, Ryan and I stopped by Tas-T-O's to get some doughnuts for my family since they are still raving about them after their first visit to Ocala. We actually tried to pick up an éclair for my dad (his favorite) last weekend to bring with us when we surprised him for his birthday, but they were already sold out at 7:30 a.m. You gotta get there early!
Thankfully 6:30 a.m. was early enough to nab some goodies!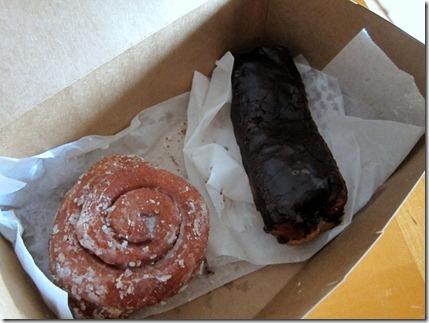 I've received a few tweets from several of you guys who happen to drive through Ocala en route to another part of Florida (Why don't you ever stay!?), and Tas-T-O's is definitely worth a little side trip if you happen to be driving through before 10 a.m. (They close everyday by noon and seem to only have cake doughnuts left after 10 a.m. Bleh.)
Lunch
I arrived in St. Pete a little before lunchtime and got some work done in a nice, empty house before fixing myself a plate of food around noon.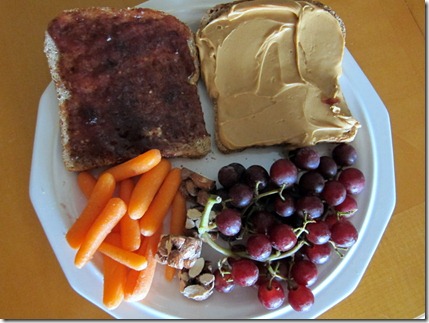 I made myself a peanut butter and jelly sandwich on Ezekiel bread with a side of fresh grapes, baby carrots and a few almond crunch squares.
The almond crunches weren't that good, but the grapes were perfectly sweet and crisp.
My peanut butter lovin' puppy didn't leave my side until the peanut butter and jelly sandwich was completely gone.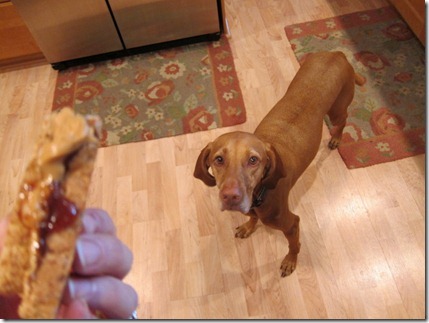 I appreciate her commitment to eyeing my sandwich without even blinking. She got a bite, of course, since I'm a sucker. Plus, she deserved a reward for winning a non-existent staring contest with a sandwich.
Plans for the rest of the day include working for a few more hours before hopefully taking Sadie to the dog park around 5:30 p.m. and going out to dinner this evening!