When I woke up this morning, the only thing I wanted to do was take a yoga class. I went on long run with my friend Merri on Saturday and something about running for more than an hour makes my body crave a good stretch.
Though I stretched when we were done with our run on Saturday, my body wanted a solid hour of yoga poses, hip openers and sweaty stretching this morning, so after breakfast I headed over to Power Yoga Ocala to take their morning power hour class.
The class was incredibly hot and sweaty. At the end of the class, when the instructor opened the door to let the outside air in, we all felt a cool breeze which is just crazy since outside air in Florida in August is anything but cool. Clearly the room was H-O-T!
We did a lot of different poses and the class incorporated a lot of core work. My favorite pose occurred during the last 15 minutes of class when were holding the high lunge pose.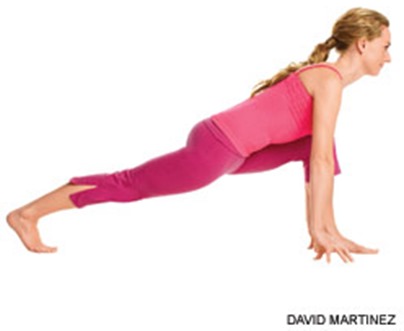 The instructor had us drop the knee closest to our chest out, changing the pose slightly to what she called, a "modified pigeon pose." Since the pigeon pose is my all-time favorite pose, I loved every minute of this! It stretched my hips in the most glorious way.
My hips are always the first thing to give me problems during a run, so I really try my best to go through lots of hip stretches, but there's something about the hip openers and hip stretches that I go through during a yoga class that are the absolute best!
After class, I walked to my new favorite local coffee shop to grab a cappuccino and set up camp to type up this blog post and catch up on some work on the computer.
Hooray for almond milk cappuccinos!
Check out that foam! The kind woman who made my coffee initially apologized for the excessive foam, but I assured her that the foam is always my favorite part of a cappuccino. Extra foam is always appreciated by this girl! Mmm!
I hope your Monday is off to a good start. I'll see ya after lunch!
Question of the Morning
If you are a fan of yoga, what is your all-time favorite yoga pose?
My favorite is the pigeon pose, but I also love plow. Sometimes I'll stretch while Ryan and I are watching TV at night and go into the plow pose and Sadie just about loses her mind. Apparently the plow pose is way too exciting for her and she always ends up running over to me and wiggling her little face in so she can lick my nose.